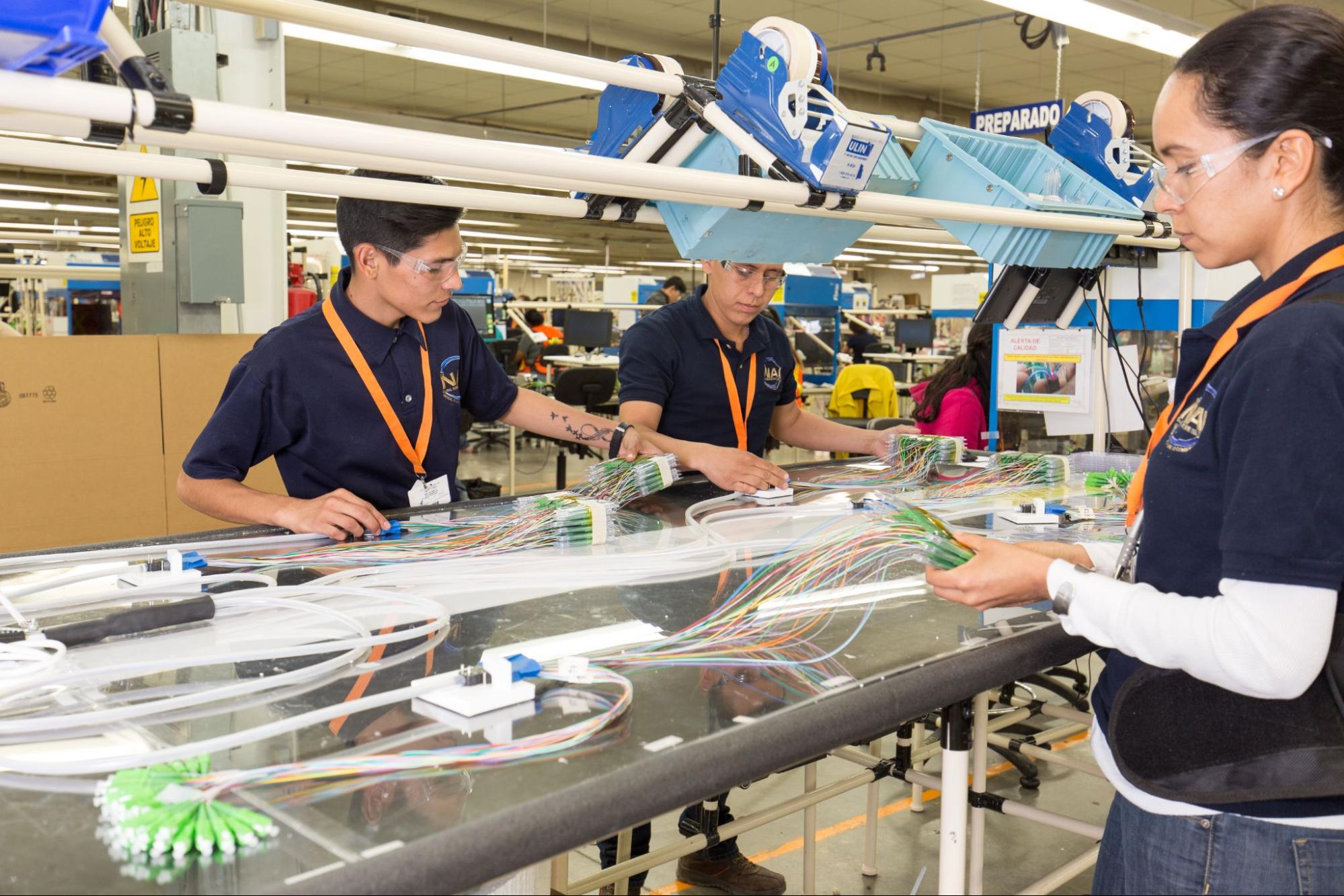 23 May

Who Is NAI Group? A Leader in Connectivity Solutions

With almost 30 years as a global leader in connectivity solutions for large-scale telecom, medical, data, and industrial technology companies, NAI specializes in fiber optic cable assemblies, copper cable assemblies, electromechanical design, and box build assemblies. Our experience is unparalleled, with over 2.5 million assemblies and over 25 million terminations per month. Keep reading to learn more about NAI, a leader in connectivity solutions.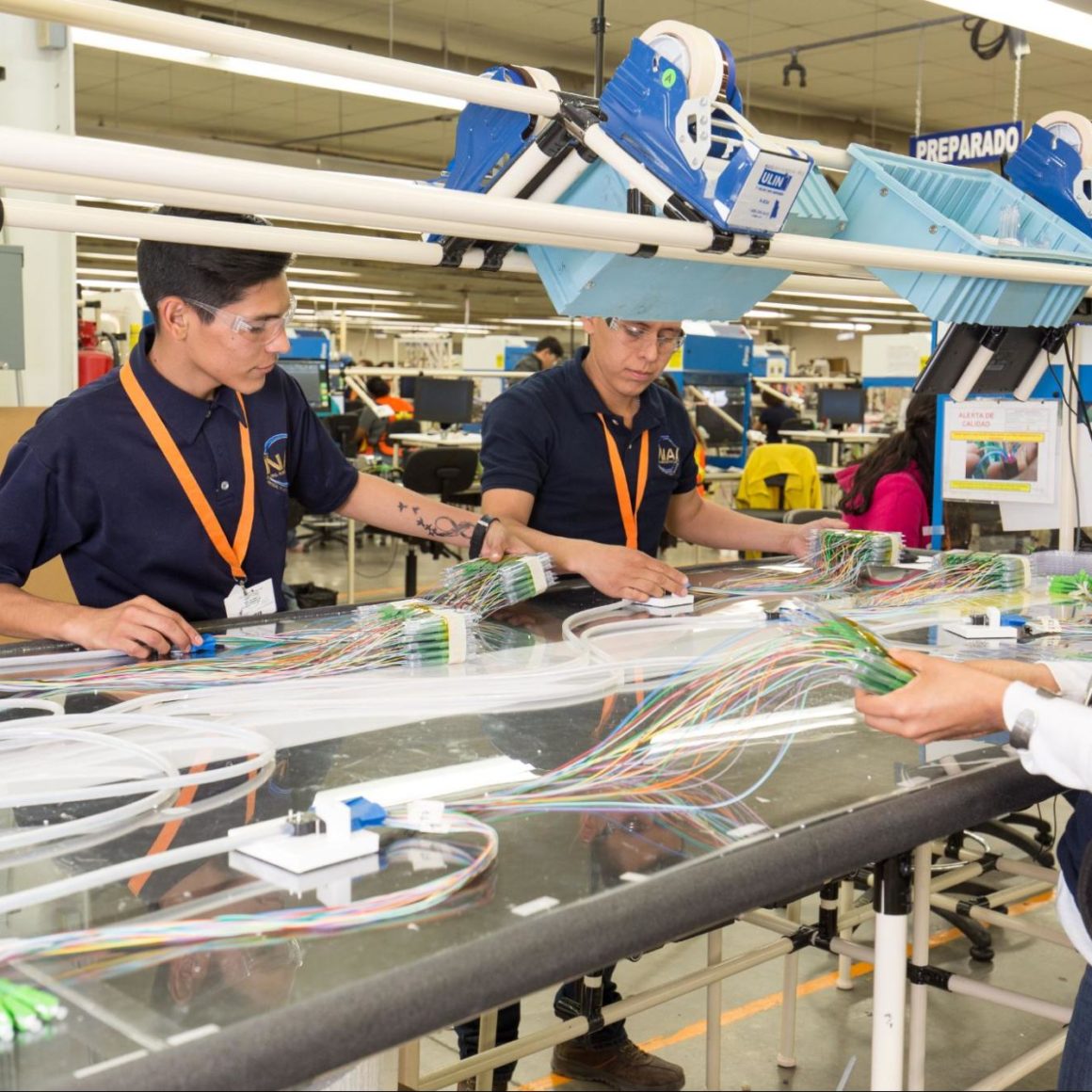 Our global footprint spans several continents with seven major facility plants that allow flexibility and adaptability to complete custom orders at competitive prices. By sourcing high-value products and components for connectivity solutions and assembling them internally, NAI is able to offer cost-effective connectivity solutions for custom cable assemblies, wire harnesses, and more for our customers. Our U.S. headquarters, along with our global facilities, gives us a competitive advantage over other companies that lack the full reach that global manufacturing provides.
What Makes NAI a Global Leader in Connectivity Solutions?
As a proud member of Pritzker Private Capital, NAI has access to resources that allow efficient decision-making and fast implementation for complicated projects. Our capital investments can be applied in a timely and reliable manner to help complete assignments ahead of projected deadlines.
At NAI, we lean on our expert electromechanical and interconnect design, engineering, and manufacturing teams to not only build out connectivity, cable assemblies and harnesses but also find alternative components and cost-effective methods of building. Our highly scalable team, Quality Management System, and use of lean manufacturing principles, combine to make NAI a leader in global connectivity solutions.
NAI's ability to accommodate both the high mix-low volume and low mix-high volume orders makes it unique in the interconnectivity industry. Few other manufacturing and production facilities are able to produce both order types efficiently and at the scale at which NAI can.
NAI Awards and Certificates
It's not just our global facilities and funding that make NAI a global leader in custom cable assemblies, wire harnesses and box builds. As a company, we've collected numerous certifications and customer awards that recognize NAI as a global leader in cable assembly manufacturing.
On the road to becoming a global leader in interconnect solutions, some of the certifications we've received for various plants include: ISO 9001, TL 9000, ISO 13485, and AS 9100. Our commitment to excellence has been recognized through several accolades over the years, including HPS Supplier of the Year and Major Medical OEM Supplier of the Year.
NAI's Innovative Connectivity Solutions Products
Our connectivity solutions are vast and provide a wide array of products for complicated problems. We specialize in producing cable assemblies, cable harnesses, pre-terminated assemblies, hybrid assemblies, and electro-mechanical assemblies. We've even opened up a new line of STEADY LINK™ products including coax cable assemblies and GPS and Sync cable assemblies.
With over 3,200 designers, engineers, and manufacturers, we are able to offer strategic consultations on developing custom connectivity solutions for numerous industries. NAI offers scalable design engagement options, the resources of our design and engineering facilities, and a broad array of design capabilities, processes, and tools.
No other company is able to match the breadth of our high-quality product capabilities. As such, there are few limits to the volume and complexity of cable assemblies we are capable of producing. We have the financial resources and provide quick decision-making to scale quickly for almost any size project. This allows us to work with a variety of industries including industrial technology, medical, and telecom.
NAI's Connectivity Customers
Our quality systems and certifications allow us to provide the highest-quality connectivity setup for any business. At NAI we hold a variety of certifications including the following:
ISO 9001:2015 – for overall quality
ISO 13485: 2016 – for medical cable assembly quality
TL9000-H 6.2/5.7 – for telecom product quality
AS9100 REV D – for aerospace product quality
2021 C-TPAT
UL and C(UL) certifications
These certifications ensure we deliver quality interconnects to our customers. We produce rugged and reliable wire harnesses and assemblies in complex configurations needed to support industrial technology companies. Our cable assemblies are strong enough to combat the harsh environments and conditions often found in the semiconductor industry, as well as a variety of Industrial Internet of Things (IIoT) applications.
As a world-class medical cable assemblies manufacturer of medical-grade connectivity solutions, NAI offers a range of medical cable assemblies for both devices and equipment. Our Chief Medical Officer is a highly accomplished cardio electrophysiologist, who has helped us broaden our understanding of the medical industry as well as the surgical tools and requirements necessary to care for human life. We utilize our ISO 8 Class 100k cleanroom manufacturing facilities for medical assemblies. Most importantly, the commitment to testing 100% of the products we develop before delivery has propelled us toward becoming a global leader in medical connectivity.
We work with some of the largest companies in the world helping them produce, assemble, and test telecommunication and data networking solutions for the entire world. Our cable assemblies are responsible for improving high-speed data runs through fiber to the antenna applications on cell towers, microcells and in base stations. Our work has also included assemblies for RRUs, FDPs, FTTC, FTTN, and FTTH applications. Many central offices, co-location centers, and data centers have utilized NAI's reliable and durable cable assemblies. Learn more about our contributions to the telecom industry in our recent blog article NAI's STEADY LINK™ Series-C LMR* Coax Cable Assemblies: Industry-Leading Quality and Performance.
The NAI Difference
NAI is based in the U.S. and is the global connectivity leader for complex configurations and problems that face industrial technology, telecom, and medical companies. With our immediate access to financial resources, a team of connectivity experts, and almost 30 years of manufacturing experience, NAI remains unmatched when it comes to providing connectivity solutions for the complicated needs of a business on a large scale.
We're one of the most resourceful interconnect solution providers customers count on to solve design, manufacturing, and logistics problems. Offering copper and fiber optic cable assemblies and harnesses, coupled with block assemblies, panel, and box builds, NAI provides an unparalleled breadth of capability. Being remarkably scalable, flexible, and agile, NAI customer projects are brought to life very quickly, while meeting or exceeding expectations and delivering high reliability.
NAI strives for high integrity with customer relationships by providing notable transparency and delivering on promises. Product and market diversity, an extraordinary talent base, and an ability to supply globally are distinct characteristics of NAI.
Only NAI provides this unique combination of company attributes, distinguishing them as the most reliable supplier of interconnect product solutions and expert service. If you have questions or want to hire NAI for your next project, ask an expert today!