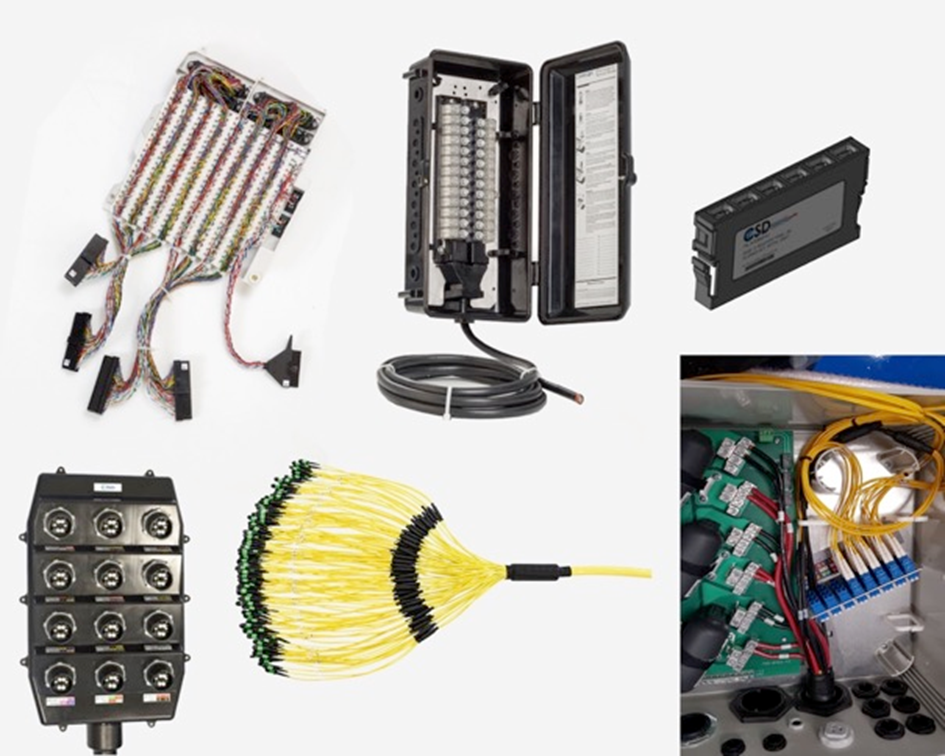 23 Jun

Applications of NAI Plastic Molding Capabilities

In 2021, the global plastic injection molding market size was estimated at 284.7 billion USD and is expected to rise at a compound annual growth rate (CAGR) of 4.2% until 2030. The sheer size of this segment alone makes a statement about the industry as a whole: Plastic molding is everywhere, and so are the applications of NAI molding capabilities.

Whether it's the type of units that are offered by a connector house which cover electronic components, or the coaxial cable components that connect our world, there are many applications for plastic molding. This manufacturing method is especially common in telecom and data, industrial cable harness assemblies, and even in medical devices that save lives every day.

Here's how applications of NAI plastic molding capabilities are used in these fields and more, and what makes this process the go-to method for so many industries.
How NAI Plastic Molding Works
Plastic molding involves the heating of thermoplastic resins into a molten state, Injecting them under high pressure, generally 5-20,000 PSI into a cavity or mold, allowing the material to cool, and removing the finished product from the mold for surface finishing or other post molding operations.
There are several variations of plastic molding that manufacturers can use. The five main plastic molding types are:
● Injection molding: This involves injecting the molten polymer into a mold that's been machined to include all the features of the required part.
● Compression molding: This involves applying a high compressive force to the heated Polymer Pre-Form once it's been placed into the mold cavity, thereby creating an end product with good dimensional stability and greater overall mechanical strength
● Extrusion molding: This involves forcing the molten polymer through a machined die to give it the desired shape.
● Blow molding: which forces high-pressure air into either a Pre-Heated Injection Molded Pre-Form or an Extruded Parison that is then shut off into a mold cavity to create a hollow, thin-walled surface, similar to that of blown glass.
● Rotational molding: Also called roto molding, this involves spinning the mold to create a part with radial geometry and uniform wall thickness.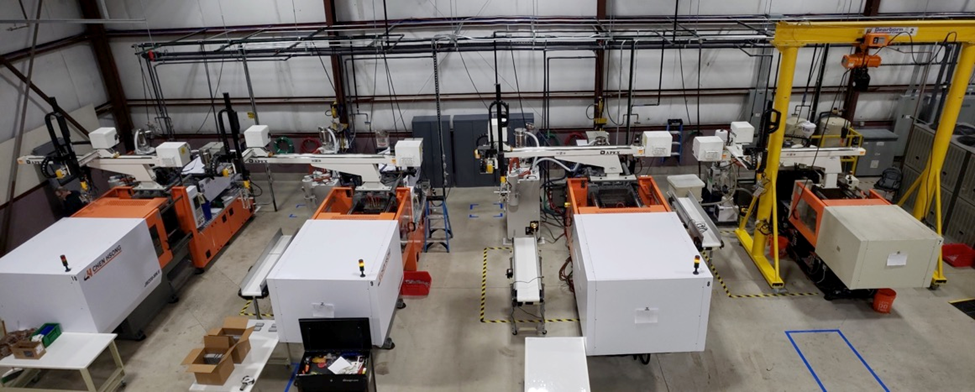 Other subcategories of plastic molding include insert molding, where another material is placed into the mold cavity prior to injecting the molten polymer, this molding process is especially useful for electronic devices like sensors, or probes. There's also over-molding, which adds extra layers of material for devices requiring multiple material properties. This method is used by NAI to create overmolded terminations for their cable assemblies.
A variety of the listed molding process types are used by NAI in its multiple manufacturing plants located around the world, including over-molding, injection molding that includes insert molding, and horizontal molding.
NAI leverages its global talent and expertise in plastic molding to offer the best plastic molding capabilities for all of our partner's custom cable accessories and parts. And our multiple locations provide for convenient and efficient logistics, including our plant in Gaylord, Michigan.
Plastic molding methods offer a relatively inexpensive, high-yield process to create easily customizable products. With different polymers or unique additives, leading interconnect manufacturers with plastic molding capabilities like NAI can customize the color or finish of the final product to meet specific customer requirements.
These materials can also modify the product's physical properties, like its electrical characteristics and corrosion resistance. This means it is ideal for cable assemblies that need to possess varying degrees of rigidity and can be designed using flexible polymers of varying degrees of durometer hardness that optimize the end product's flexibility where it's most needed.
NAI Plastic Molding Applications
Any industry that manufactures plastic parts may well use plastic molding to build their components. Three industries that lean especially heavily on plastic molding are the industrial cable harness assembly, healthcare, and telecom and data sectors — though many more exist. Many large players within these industries rely on plastic molded products produced by NAI in conjunction with our cable assemblies and harnesses.
Plastic Molding in Industrial Cable Harness Assemblies
Industrial cable harness assemblies are used to link together nearly any automated facet of production today. Any manufacturing facility that employs an automated machine to aid in fabrication needs a cable harness assembly to connect its actuators to power sources and provide data to dashboards. Without cable harnesses, your building would lack the interconnections needed to have any power at all.
Plastic molding is uniquely suited to build the rugged parts that industrial cable harnesses demand. For example, grommets, ferrules, and fasteners can be manufactured at a high enough volume to meet production demands using plastic molding. Over-molded cable assemblies with multiple layers of varying rigidity can be added to obtain the desired material properties. From the cable to the connector, plastic molding makes cable harness assemblies possible.
NAI Plastic Molding in Healthcare
The healthcare industry manufacturers frequently require cable assemblies to build their medical devices, and they often rely on plastic molding to provide the necessary components.
Some cables attach to machines on one end, and a patient on the other. This requires medical-grade cable assemblies to have durable interconnects on the device side with pressure-reducing adaptors so that they won't be easily unplugged, delicate sensors on the patient side that can safely make contact with their skin, and a comfortable outer layer that will protect patients from the electricity-conducting core. Other devices must even be planted inside the patient, making sterility a must.
Whatever the need may be, the versatility of NAI's plastic molding capabilities makes it capable of meeting these demands. Our global facilities include clean rooms and are ISO 13485 certified. They are routinely inspected to meet the highest standards in the medical plastic molding and cable assembly manufacturing industry.
Uses in Telecom and Data
The telecom and data sectors depend on plastic molding not only to make the cable assemblies that transmit their signals, but also the shells that enclose their devices. Cable harness assemblies are becoming even more common with the rise of 5G and generally utilize fiber optics, which can be found in FTTX, backhaul equipment cabinets, patch cords, and more. All of these can use plastic molding, as added components or for protecting connectors.
Plastic Molding Opportunities in Emerging Industries
Plastic molding is heavily used in many well-established industries, but it also has a bright future in many emerging industries like Robotics.
In electronics, plastic molding is already heavily used because of the unique properties it provides. One of the unique properties that makes plastic molding valuable to electronics and future robotics is that, unlike many other materials, plastic does not trap moisture. This unique quality makes it the ideal choice in housing materials for many devices and robotic equipment. Plastic molding allows for the creation of these connector housings. It can be utilized to create casings, components, and much more.
Electronics already play a critical role in modern society, and widespread robotics and automation implementation is growing every day. These devices and machines rely on the electronic components within the cable harness assemblies and connector housings made possible through plastic molding.
The NAI Difference in Plastic Molding Applications
At NAI, we don't just have the expertise in engineering high-performance cable assemblies — we also have the plastic molding facilities to do it. Our manufacturing plants in Gaylord, MI, and Suzhou, China provide a global footprint that our clients can leverage to overcome supply chain hardships, reduce lead times, and deliver the quality product they deserve.
Our team produces quality products leveraging our unique plastic molding capabilities to meet our specific partner requirements. Not only do our facilities offer superior products, but our global footprint reduces supply chain disruptions and enhances our manufacturing capabilities.
See some of our plastic molding and manufacturing capabilities.
Contact NAI today to discuss the plastic molding requirements for your next project. Let our team use their expertise in the applications of NAI plastic molding capabilities to help guide you through your next custom project.