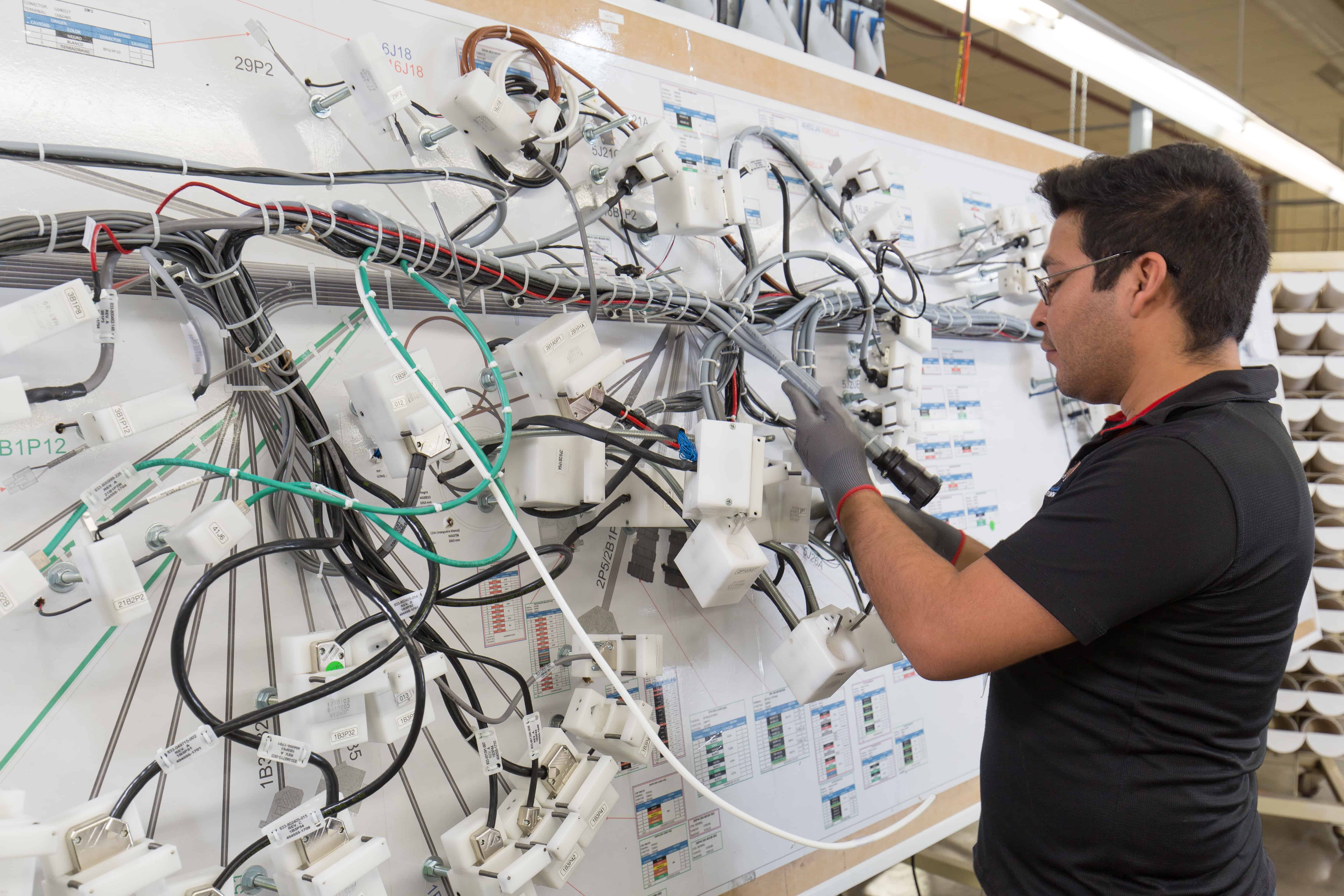 22 Sep

Selecting a Source for Very Complex Cable Assembly or Harnesses

Understanding cable assemblies, cable harnesses, and how they are related and complex is a crucial foundation to properly evaluating a manufacturer. Likewise, you'll want a detailed checklist to ensure the supplier meets your specific needs.
What Are Complex Assemblies & Harnesses?
A cable assembly is one or more cables with connectors attached. Specifically, in its simplest form, it is a specified length of a certain cable type, such as fiber optic, with a connector attached at one or both ends.
A cable harness assembly is generally a grouping of various cable assemblies bound into one cable harness. Harnesses can include:
copper cable assemblies
hybrid assemblies (fiber and copper)
power cables
Most are custom harnesses and assemblies, so the level of complexity grows from there. They can run from the simplest assembly to extremely complex designs.
What Makes A Cable Assembly Complex?
There are many copper cable types from which to select for an assembly:
Hook-up wire
3 – UTP and STP
4 – UTP and STP
Coaxial
Multi-conductor
Power
And, there are many fiber optic cable choices:
Ribbon
Single Mode
Multimode
Hybrid
Simplex
Duplex
Further, the selection of connector types runs in the hundreds of styles and models. Generally, the selection for customization includes various choices of covers, housings, pins, and contacts.
Add other components to the above list, which may be needed for an assembly, such as:
Ferrules
Strain reliefs
Shrink tubing
Terminal blocks
Enclosures
Boots
Bushings
Potting material
In addition to the many component variations and complexities, additional processing requirements can also make an assembly very complicated. Examples include:
Splicing
Overmolding of the connectors, strain reliefs or transition areas
Adding sleeves, braiding, or convolute for the protection of the cable harness assembly
Consequently, if you look at the number of variations possible to create an assembly, they are astounding! A complex assembly or custom cable harness would include a number of these various components, cable types, and additional processing into one assembly with many branches.
Sample Complex Assemblies
Complex assemblies and harnesses can include many branches and assemblies all bound together. This secures them for easier installation, and protects them against the adverse effects of vibration, abrasion, moisture, or other harsh environmental conditions.
Here are a few samples of some complex  and custom harnesses or assemblies: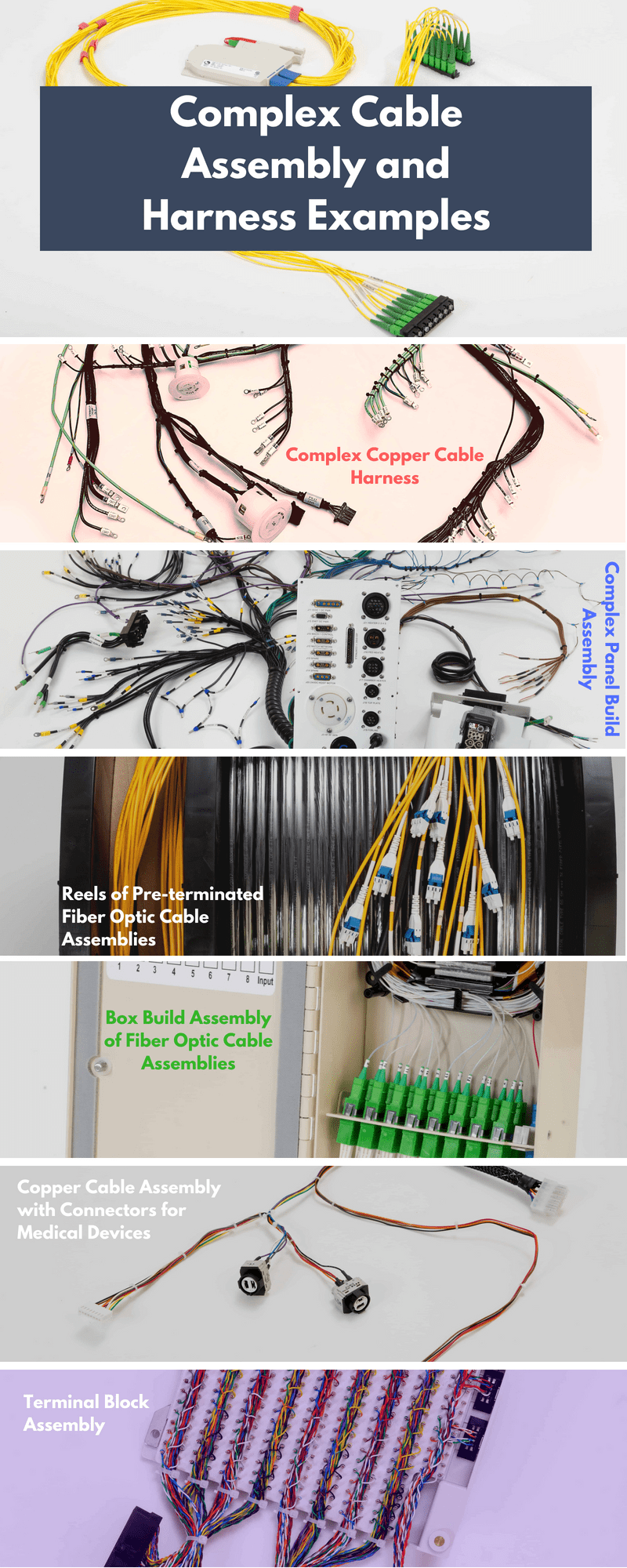 Find the Right Complex Cable Assembly Supplier
Choosing the right supplier will be a critical decision in beginning the process of manufacturing complex custom cable assembly constructions. Here are a few tips to choose the best manufacturer:
Look at the depth and breadth of their assembly operations.

Have they made similar types of constructions to those you are seeking?
How well do they protect the assemblies as they progress through production lines?

Verify their sourcing capabilities. With the hundreds and thousands of component variations and alternatives, your supplier must have established global sourcing networks to be able to quickly procure the parts needed.
Talk to their Engineering department. Make sure they have the bench strength, experience, and capabilities needed to design the complex construction you require. Look at how they first begin working on a new project – what steps do they take? How long does it take to receive the First Article?
Inspect their Quality Management System very carefully. Conduct an on-site examination of their quality checks for both fiber optic and copper assemblies.
Also, look at the source's shipping operations.

Do they protect the product adequately for shipping?
What shipping methods are available?
Follow these guidelines in selecting your complex cable assembly provider to ensure you receive the right product. Get what you need on time and meeting all performance specifications without unwanted issues.
By: Jason Porter, VP Engineering & Continuous Improvement, NAI