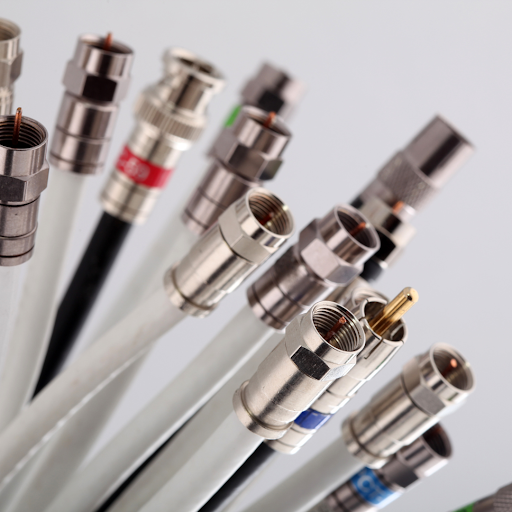 03 Apr

Benefits of Series C Coax Cable Assemblies

As society advances, the growing population needs technology that advances with it in order to maintain a communication network that supports functions at such a high level. This has allowed coax cable assemblies to grow in popularity by offering a consistent product that transfers high-frequency electrical signals with low losses.

Designed for wireless applications on microcells and cell towers, NAI's rugged Series-C coax cable assemblies can meet the surge in demand for additional antennas and radios required to service 5G and 4G LTE networks.

Read on to learn more about these products and their benefits. We'll cover how they're made and what industries use them. By the end of this coax cable assembly guide, you'll know why NAI's Series C coax cable assemblies are the right custom cable assembly choice for your project.
What Are Coax Cable Assemblies?
A coaxial cable assembly (or coax for short) is a type of transmission line often used for carrying high-frequency electrical signals. These coax cable assemblies are often used in applications such as broadband internet networking cables, telephone trunk lines, cable television signals, and connecting radio receivers and transmitters.
They differ from other shielded cable assemblies because the connectors' and cables' dimensions are controlled to give a constant, precise conductor spacing. That's why they function efficiently as signal transmission lines.
A coaxial cable assembly consists of the following parts:
An inner copper conductor transmits all data. It is the innermost part of the cable.
Dielectric plastic insulation surrounds the copper conductor. It maintains the spacing between the shield and the center conductor.
A braided metal conductor creates a barrier. This prevents any electromagnetic interference (EMI) from moving into and out of the cable.
A protective plastic outer jacket or sheath protects the inner layers of coax cable assemblies from damage from harsh external weather, vibrations, and temperatures.
As you can see, each part plays a key role in making the overall coax cable assemblies reach their utmost power potential. While easy to overlook, our years of industry experience and knowledge have allowed us to have a high standard for every part of our coax cable assembly products.
This is why NAI pays attention to the tiniest details in order to provide great quality products from start to finish.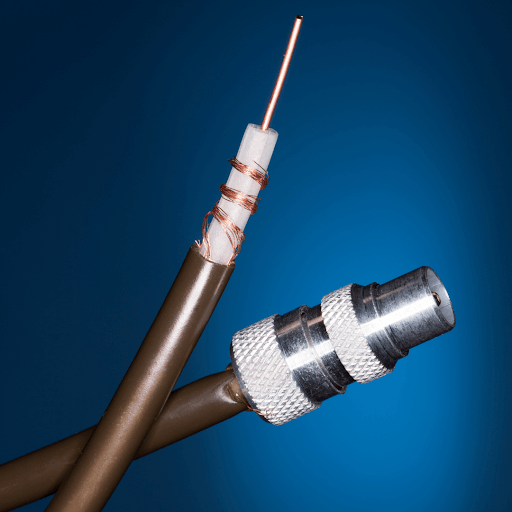 Types of Coax Cable Assemblies
While NAI offers a wide range of products, we want your coaxial cable assembly solution to be exactly what you need. Whether through one of our standard products, or a custom one, we want you to have a custom cable assembly solution perfectly suited for your project. If you aren't looking for coax cable assemblies, we also offer a variety of other products for interconnect solutions like cable harnesses, electro-mechanical design & assembly, and hybrid assemblies. But if you are looking for custom coax cable assemblies, it's important to find the right type.
This is why when choosing coax cable assemblies, knowing the unique benefits of each helps our customers tell which coaxial cable assembly would actually be appropriate for the job. There are several types of coax cable assemblies, each with its own unique features, including:
Hardline coaxial cables have center conductors made of copper and silver. They have a larger diameter than other coaxial cables. Commonly used to connect a transmitter to an antenna, these coax cable assemblies are typically designed for permanent installation. They allow your custom cable solution to acquire solid shields, a foam dielectric, high power handling, and decreased power loss.
Semi-rigid coaxial cables use a solid copper outer sheath. Their dielectrics consist of polytetrafluoroethylene. Through the use of a solid outer conductor, semi-rigid coax cable assemblies are manufactured with seamless tubing over the insulating material and center conductor. This makes it electrically superior to its counterpart, flexible coax cable assemblies, by providing 100% shielding effectiveness, lower signal loss, a greater frequency range, and uniform impedance matching for power transfer.
Formable coaxial cables are alternatives to semirigid cables. Instead of rigid copper outer sheaths, they have flexible metal sheaths. These types of coax cable assemblies offer a similar electrical performance to semi-rigid cables, high shielding efficiency, and excellent memory properties – all while remaining easy to bend, form, and install. Plus, they are fully compatible with standard SMA connectors for semi-rigid cables.
Flexible coaxial cables are incredibly flexible due to a polymer that surrounds the inner conductor. This type of coax cable assembly yields lower electrical performance when compared to semi-rigid and formable cables but offers lower costs. The flexible coaxial cable utilizes either a stranded center conductor where repeated flexing is required or a solid conductor where lower signal power is needed.
Triaxial cables have an additional braided metal conductor that protects the cable from noise. Triaxial cables offer more bandwidth than other types of coaxial cables.
Rigid coaxial cables consist of two copper tubes supported at cable ends or fixed intervals throughout the cable length using disk insulators or PTFE supports. These lines are designed to benefit indoor use between high-power radio frequency (RF) transmitters.
Twinaxial cables have two central conductors in their cores and a single dielectric and outer core. They are best for low-frequency video and digital transmission.

Which Industries Use Coaxial Cable Assemblies?
As you can see, there are many different types of coaxial cable assemblies that all offer different benefits. Since there is a wide range of beneficial NAI coax cable assembly products to choose from, your project needs can always be met. NAI services a broad range of industries with its Series-C coaxial cable assemblies such as:
While coaxial cables may seem intensive, their common use in technology we use every day shows their importance. Companies and contractors regularly use coaxial cables in applications like:
CCTV: Both RG-6 and RG-59 coaxial cables can be used in CCTV systems.
HDTV: HDTV uses RG-11 to provide more space for signals to transfer.
Video: RG-6 is used for improved digital signals, and RG-59 is used for lossless video signal transmission.
Television: RG-6 and the 75 Ohm coaxial cables can be used for television.
Internet: RG-6 coaxial cables are typically used to carry internet signals.
NAI has manufactured single assemblies with over 430 terminations. There is virtually no limit to the number of coax cable assemblies NAI can produce.
No matter the industry, product, or level of customization at hand, NAI has the experience and capacity to deliver. See for yourself with the full list of industries and clients we provide advanced cable solutions for!
We cover some of the industries that use Series C Coax Cable Assemblies in more depth in other articles, including:
Benefits of Using NAI's Series-C Coaxial Cable Assemblies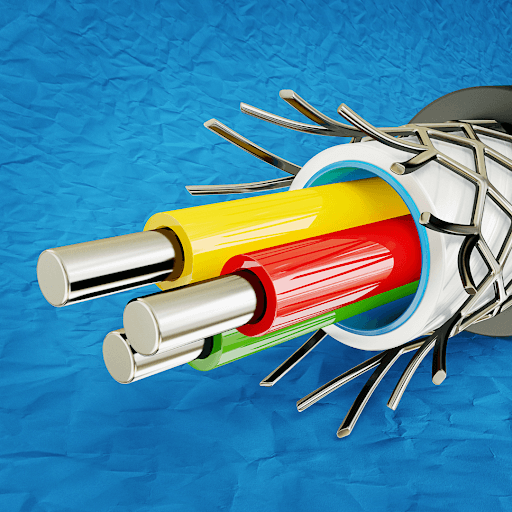 Coaxial cable assemblies are an ideal solution for transmitting RF signals from one connection to the next within a system. But, when choosing NAI's Series-C coax cable assemblies you are choosing the best of the best coaxial cable assemblies.
Our products contain custom design attributes, along with other unique design features, to allow standard coax cable assemblies to meet the specific design requirements of various applications across markets.
Coaxial cable assemblies present many advantages, including:
1. High Power for Coaxial Cable Assemblies
Let's face it – consumers are driving a power-hungry market. With a growing need to access things right when they need it, the right cables must be in place in order for that to happen.
Thanks to the compact installations found on 5G hardware Input/Output (I/O) panels, coaxial cable assemblies transmit signals at higher frequencies. They also accommodate the need for power increases for energy-dense 5G installations.
Increased bandwidth also allows systems to keep up with the overall volume. By being naturally OBI (optical beat interference) free, coax cable assemblies can help avoid signal degradation.
2. Coax Cable Assemblies Have Durable Yet Adaptable Features
These cable assemblies can withstand a broad range of trying conditions and accommodate difficult routing spaces. The durability and increased effectiveness of these fiber optic Series-C coax cable assemblies help ensure less replacement and better functionality, resulting in fewer costs for interconnect solutions projects.
3. Cost-effectiveness of NAI Coax Cable Assemblies
Able to withstand increased harsh conditions means Series-C coax cable assemblies are a product with longevity. Over time, replacements can add up. Coax cable assemblies offer a great product that also saves money in the long run. Plus, some coax cable assemblies, such as NAI's STEADY LINK® Series-C coax cable assemblies, are even competitive with fiber optic installations in 5G applications.
4. Short Length, Powerful Reach
Coaxial cable assemblies may be short but they are speedy! Series-C coax cable assemblies carry data for shorter distances at higher speeds providing a more efficient option to move high-frequency electrical signals with low losses.
5. NAI Coaxial Cable Assemblies Are EMI-resistant
5G devices must endure more than just the elements due to higher-frequent transmissions. Electromagnetic interference (EMI) is a disturbance, sometimes called noise, which affects coax cable assemblies and other electrical circuits when electromagnetic induction or electromagnetic radiation is emitted from an external source. NAI's Series C-coax cable assemblies provide EMI resistance thanks to its custom-designed shielding, jacketing, and braiding construction.
6. Ease of Use for a Coax Cable Assembly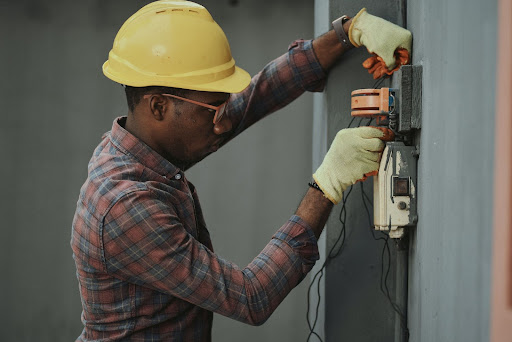 Coax cable assemblies can be installed using simple hand tools regardless of the cable size. There is only one conductor to deal with and it is large enough to easily see what you are doing.
If damaged, coaxial cable assemblies are easily repaired and weatherproofed. This enables easy fixes without the need for fusion splicing and a splice enclosure.
NAI's STEADY LINK® Series-C coax cable assemblies offer durable, cost-effective, and energy-dense solutions that will connect the world to a comprehensive 5G network. Our cables can be ordered to a number of different lengths and have the shielding capabilities to transmit high-frequency 5G data at prices customers can afford.
Interested in trying our coaxial cable assemblies? Use the Coax Assembly Configurator to request a quote for the coax cable assembly you want.
Why NAI Is the Right Choice for Your Coax Cable Assemblies
If you don't know where to get coaxial cable assemblies, consider getting NAI's STEADY LINK® Series-C coax cable assemblies.
Powerful, reliable, and sturdy, our coaxial cables are designed for 4G LTE and 5G networks. We also sell NAI RF50 coax jumpers for connecting transmitters, antennae, receivers, and other equipment in the antenna feeder systems in microcells, in cellular base stations, and at the top of cell towers.
Our custom coax cable assemblies and coax jumpers are built-to-order and purposefully designed for connections in VSWR signals and low-loss transmission at high-frequency applications. As such, you can choose from several lengths and customize shielding capabilities that arrive through our global supply chain that provides quick-turnaround shipment.
With great power, comes great responsibility – and NAI is ready to be responsible for providing the highest-quality coax cable assemblies on the market. Contact NAI today to get your power at a maximum!