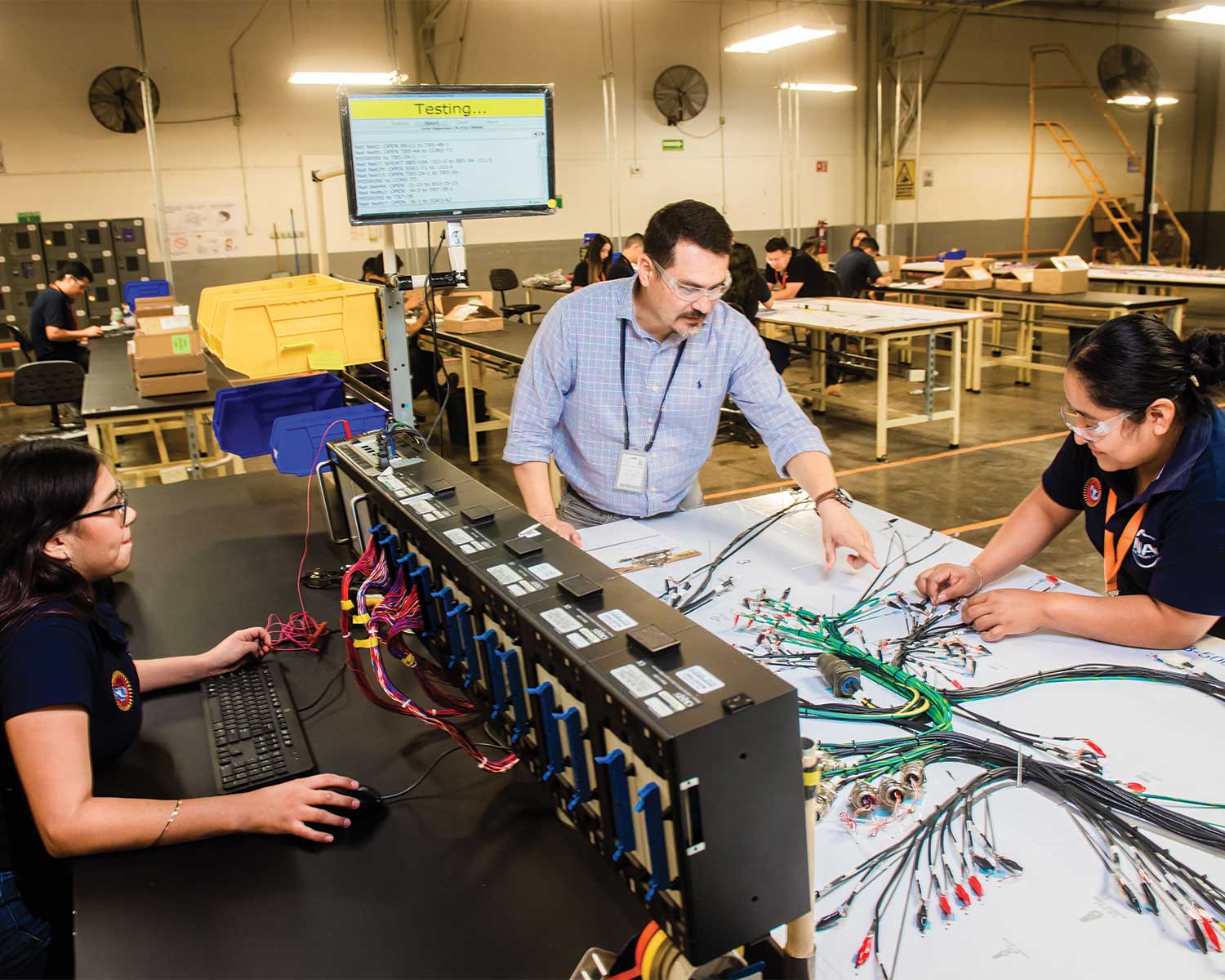 21 Aug

NAI Improves Solution Centers to Optimize Service

NAI, a leading designer and manufacturer of custom interconnect solutions that deliver power and signals to monitor data, connect people and keep equipment operating, has just announced the consolidation of its existing Centers of Excellence into a combined single Solutions Center in Hermosillo, Mexico.

The Hermosillo Solutions Center is now home to:
The Industrial Center of Excellence (ICoE), provides design and development services related to industrial interconnect solutions, including cable assembles, harnesses, block assemblies, and panel and box builds. This operation has been relocated to the Plant 2 facility adjacent to the Fiber Center of Excellence (FCoE).
The Fiber Center of Excellence (FCoE), also provides interconnect design and development services focused on fiber optic technology.
The purpose of this consolidation is to provide the engineers at both facilities access to the various test and validation equipment needed for their respective operations.  As Research and Development centers, these two operations support New Product Introductions (NPIs).  With both facilities co-located under one roof, customers can now experience the breadth of capabilities that NAI has for interconnect design and development, all in one large professionally designed space.
Another reason for this move is to accommodate the continued growth of these engineering support centers and NAI's overall business.  The combined professional staff has grown 54% in three and a half years to 180 engineers (in addition to the large engineering staff at other locations).  In addition, the floor space required for these facilities has grown by 76% in the same period, to a total of 14,340 square feet.  The CoEs have developed and shipped more new part numbers through the first half of 2020 than during all of 2019.
The Solutions Center provides three levels of design services: build-to-print, design assistance, and full-service design.  Their dedicated engineers will design, analyze, and qualify assemblies and harnesses, as well as box or panel, builds before they go into production.  In addition to  engineers, the professional staff includes technicians, advanced sourcing experts and cost estimators.  They use Program Managers to oversee NAI's Product Development Process (PDP) and to ensure the product concept is successfully transferred to manufacturing through NAI's standard Advanced Product Quality Planning (APQP) launch process.  The transfer can be made to any of NAI's six manufacturing locations in Mexico, China, and the U.S.
NAI engineers at the Solutions Centers will most often formalize the use of alternative processes and components, resulting in robust product performance and cost savings.  These unique engineering centers support the NAI manufacturing process (and the customer's interests) by employing Design for Manufacturability (DFM) principles in the design stage.
To learn more about NAI, please visit the NAI website.
About NAI
NAI is the most resourceful interconnect solutions provider customers count on to solve design, manufacturing, and logistics problems.  Offering copper and fiber optic cable assemblies and harnesses, coupled with block assemblies, panel, and box builds, NAI provides an unparalleled breadth of capability.  Being remarkably scalable, flexible, and agile, NAI customer projects are brought to life very quickly, while meeting or exceeding expectations and delivering high reliability.
NAI strives for high integrity with customer relationships by providing notable transparency and delivering on promises.  Product and market diversity, an extraordinary talent base and an ability to supply globally are distinct characteristics of NAI.
Only NAI provides this unique combination of company attributes, distinguishing them as the most reliable supplier of interconnect product solutions and expert service.