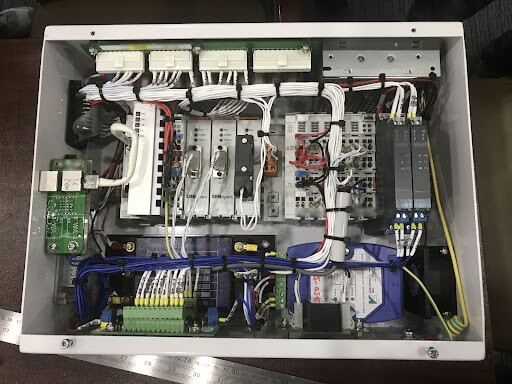 17 Jul

Custom Box Build Assembly Ensures High-Quality Interconnect Solutions

Welcome to the world of NAI's cutting-edge box build assembly, where high-quality interconnect solutions are brought to life. In today's rapidly advancing technological landscape, reliable and efficient connectivity is crucial for seamless communication and optimal performance. Read on to see the components you should consider when constructing your custom box build assembly and why NAI is the best choice when it comes to box build manufacturing.
What Is Box Build Assembly?
Box build assemblies range from simple to complex. A simple box build could mean placing a printed circuit board (PCB) inside a metal enclosure. A complex, custom cable assembly and box build design can involve bringing together many more interconnects and components, which this article will examine in detail.
Design is critical to box build manufacturing for the successful assembly and functionality of your finished product. Therefore, selecting the best components for your electro-mechanical box build makes your decisions all the more important for your custom cable assembly and box build. If you need design assistance or full design services, NAI's expert Engineering Group can provide these services.
Choose Your Own Custom Box Build Assembly Components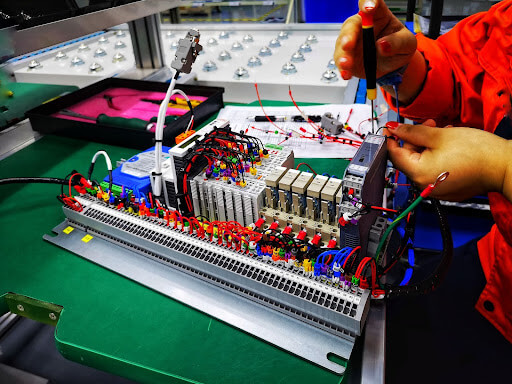 Electrical components are used to produce a complete box build assembly, which involves installing electronic parts and wiring them into a metal enclosure. NAI's box build manufacturing process uses the top-quality parts listed below in a strictly controlled environment to produce optimal results.
Enclosures and NEMA Cabinets Protect Your Custom Cable Assemblies
The metal enclosure is the protective case that houses electrical components and protects them from dust, water, heat, or other harmful factors that can enter the enclosure. The National Electrical Manufacturers Association (NEMA) provides standards for rating the protection provided by such enclosures.
Box Builds Need Custom Panels
Selected panels on box build assemblies can have cutouts, holes, or slots for mounting switches, connectors, displays, and other elements. During the box build manufacturing process, you can have custom panels made of various materials with different colors or finishes.
Terminal Blocks Are A Major Component For Box Build Manufacturing
Terminal blocks are modular devices that allow multiple wires to be connected in a secure, organized way. Each terminal block can have different sizes and numbers of terminals mounted on boards, panels, or rails. They distribute power, data, or signals among the electronic components in the box build assembly.
Brackets Support Custom Box Builds
Brackets support or hold other box build components in their proper place. They can be plastic or metal and come in different shapes and sizes. Brackets are attached to the enclosure with bolts, screws, rivets, or other fasteners.
Cool Down Box Builds With Fans
Fans are often necessary to create airflow that cools electronic components and custom cable assemblies to prevent overheating. They come in different sizes to perfectly match your box build assembly and can have varying speeds and noise levels. Fans can use AC or DC power sources mounted in an enclosure or on a panel.
Flip The Switch On Your Box Build Assembly – Literally
Open or closed circuits control the flow of electricity and signals. Toggle, rocker, rotary, slide, and push-button are all common kinds of switches. Switches can control on/off, dimming, mode selection, and many other functions and be attached to the box build assembly panel with clips or nuts.
Box Build Patch Panels and Patch Panel Cabinets
Patch panels and patch panel cabinets allow for cables to be connected or disconnected quickly and easily. Each patch panel has rows of ports corresponding to different channels or circuits. Patch panel cabinets contain one or more panels. Panels and cabinets are used to organize custom cable assemblies in networks and communication systems.
Sensors Send Box Build Assembly Signals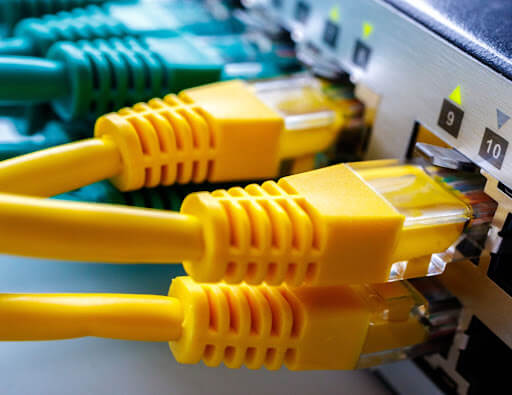 Sensors are instruments that detect physical phenomena like motion, light, pressure, and temperature and convert those inputs into electrical signals. Thermal couplers, pressure transducers, photodiodes, and accelerometers can all be mounted in the box build assembly enclosure or on a panel.
Connectors for Custom Cable Assemblies
Connectors are components that allow one or both ends of a cable to be terminated to some device. You can use pin and socket, screw-terminal, crimp-terminal, and other such connectors with different numbers and configurations of terminals or pins.
Input/Output Devices Are Important For Box Build Interconnects
Input/output — or I/O — devices provide interfaces for electronic components that can handle analog, digital, serial, or other signals. These devices can have different formats and numbers of ports and channels and can be mounted on boards or rails inside enclosures or box build assemblies.
LEDs Allow Efficient Power Usage
LEDs produce light while consuming less power and come with different brightness levels, colors, shapes, and sizes. You can easily mount them on or within any custom box build enclosure or panel for indication, display, or illumination.
Pay Attention To Your Box Build Assembly Power Supply
Electronic devices often require AC-to-DC power conversion as well as safe voltage, current, and wattage regulation. You can have over-voltage protection, short-circuit protection, and more mounted on boards or rails inside the enclosure.
Printed Circuit Board
A printed circuit board — or PCB — has electrically conductive tracks and pads on its surface that connect electronic components and create circuits within a box build assembly. A PCB can allow for efficient mass production at a smaller size, lighter weight, higher reliability, and lower cost.
NAI Provides Professional Box Build Manufacturing Services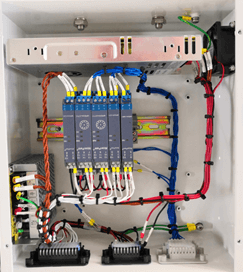 An electronic manufacturing service provider like NAI offers several benefits for its customers that are important to note with custom box builds.
1. Reduced Costs: With NAI's global supply chain team, we can access necessary box build assembly components at competitive prices, or recommend alternative components, reducing the total cost of your custom box build manufacturing project without sacrificing quality or performance.
2. Numerous Customization Options: Our customers can be involved in every step of the process including sublevel assembly, product assembly, component labeling, housing fabrication, and more, to ensure their box build is customized to their exact needs. Furthermore, a fully customized product produced with consistent quality means you do not have to worry about compatibility issues later in the process.
3. Advanced Design Assistance: NAI allocates a New Product Introduction team to your personal project for detailed pre-production planning. Or, we also have the Centers of Excellence, where engineering experts design a box or panel build, create a prototype, conduct testing, and establish the box build manufacturing stages of production.
With comprehensive services, we will turn your box build assembly project into reality based on your custom specifications. Our representatives look forward to guiding you through every step of the process to reap these amazing box build benefits!
Choose NAI As Your Box Build Manufacturing Company
NAI's expertise in the custom cable assembly and box build industry is apparent in its innovative approach to box build manufacturing, ensuring superior interconnect solutions that meet the highest standards of quality and precision.
With a focus on customer satisfaction and a commitment to operational excellence, NAI is revolutionizing the industry by delivering reliable, robust, and high-performing interconnect solutions for a wide range of applications. Make sure to stay up-to-date with our informative newsletter!
NAI's box builds and custom control panels support a variety of applications and industries — from robotics to medical equipment to mining. Each box build assembly uses high-quality materials while following industry standards and best practices to provide thorough testing and exceptional quality assurance.
Our attention to your custom requirements ensures that your expectations are exceeded while you enjoy a fast turnaround within budget. Contact us today to get your custom box build manufacturing process started!