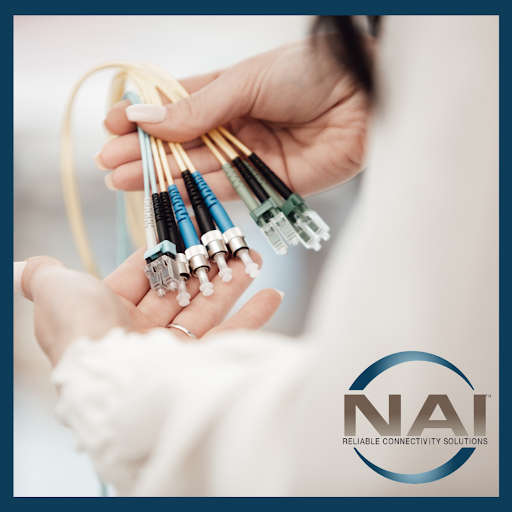 30 Dec

Why Fiber Optics Is Best for Your Cable Assembly Project

From computer networks to telecommunications, the superior properties of fiber optics make it a staple in many applications. Is fiber optic cable the best choice for you? Most likely! NAI discusses why fiber optics is best for your cable assembly project.

Learn more in this article about Fiber Optics from the leaders in fiber optic cable assemblies and fiber optic cable harnesses, NAI.
History of Fiber Optics
In the early 1960s, Charles Kao's research on the physical properties of glass laid the foundation for modern-day fiber optics technology. Kao's research showed that highly purified thin strands of glass fibers could be used to carry light signals, which could then be used to transmit data much farther and faster than conventional bundled copper. The field of fiber optics was born soon after that, and many industries have greatly benefited from its advancements.
From telecommunication and computer networking to health care and defense, fiber optics has revolutionized the way many sectors perform their tasks. It offers multiple advantages over electrical signal transmission, but choosing which one is right for your application requires an understanding of the properties of both. Here's where fiber optics shines brightest.
What Are Fiber Optics?
Whenever someone uses a telephone system, a TV with cable, or the internet they are likely using optical fiber. The Fiber Broadband Association's recent study regarding fiber optic providers revealed that 43% of U.S. households use optical fiber technology.
The majority of people have and use fiber optic technology, but may not understand what fiber optics is. NAI is ready to cover the basics of fiber optics.
"Fiber optics" refers simply to the transmission of light through thin glass filaments known as optical fibers. Once they're collected in bundles to form an optical fiber cable, fiber optic technology can be used to convey light from one point to another.
Since these cables are flexible and reflect the photons that bounce back and forth within them efficiently, they're ideal for transmitting light signals over long distances with minimal losses.
In simple terms, fiber optic technology is a way information can be transmitted quickly and reliably as small light pulses through a glass or plastic fiber.
5 Reasons Why Fiber Optics is the Best for Cable Assembly Projects

We've written about What Optical Fiber (Fiber Optics) Technology is, but whichever cable assembly configuration you choose, understanding the properties behind fiber optics can help you decide if it's the best cable option for you.
Some of the most beneficial fiber optics properties are:
1. Does Fiber Optics Give You A Better Signal?
The signals transmitted by bundled copper are subject to electromagnetic interference, or EMI. Optical fibers transmit light instead of electrical signals, so they don't suffer from losses due to outside interference, such as weather conditions.
Optical fibers are great to use when they may be located in an area that is prone to severe weather such as thunderstorms, and tornados. Optical fiber technology is more reliable and better for business applications.
Fiber optic technology can help expand your communications and data network into environments that previous copper cable assemblies did not.
2. Does Optical Fiber Technology Increase Bandwidth?
Fiber optic signals can transmit much more data than bundled copper. The larger bandwidth will be essential in wired networks connecting to 5G, where much more data is transmitted at once.
Fiber Optic cable assemblies will be essential in the expansion of the 5G network and are critical to the telecommunications industry. NAI provides a variety of Fiber Optic Cable Assembly options to support the telecom industry.
3. Reach Faster Speed With Optical Fiber Cabling
In 2020, a single fiber optic wire transmitted 800 gigabytes of data per second, which is much higher than the capacities that coaxial cable assemblies can transmit. If you're seeking a cable assembly with greater speed, optical fiber is your answer.
You won't be waiting for load time with optical fiber technology. Sending and receiving large amounts of data will become easier when you use fiber optics for your interconnect requirements.
4. Get Longer Distance Transmissions With Fiber Optics
The light-reflecting properties of optical fibers allow for minimal signal loss, also known as attenuation. When coupled with the high speed at which light travels, the result is a longer-distance transmission that needs fewer boosters than coax cable assemblies.
5. Fiber Optics Bring Superior Safety
Another benefit of fiber optics is its superior safety. Optical fiber cabling conducts light rather than electricity, which means it's unable to generate a spark. That makes it a better choice in chemically volatile environments or other applications where safety is a critical requirement.
If you want to add an extra level of safety and security to your cable assemblies or cable harnesses, fiber optics is a great option. This is especially true for delicate and mission-critical situations like medical devices and tools for the medical industry.
Applications of Fiber Optics at NAI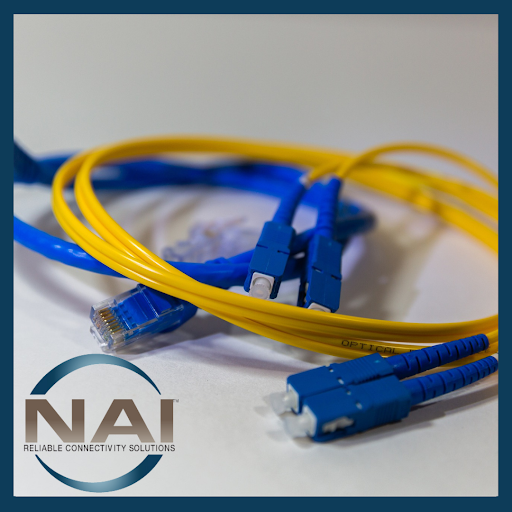 With so many benefits to offer, fiber optic technology is employed for many different applications. A few examples are:
FTTX fiber cable assemblies transmit signals to buildings, towers, antennas, and properties in the telecommunications sector.
Flexible fiber optic cables allow for clearer microscopy and better imaging in medical devices common to the healthcare sector.
Some fiber optic cable assemblies are specifically designed to enable hyperscale computing in data centers.
Fiber optic patch cords link users to the internet.
Optical fiber cables can securely transmit sensitive data in military applications.
Fiber optic technology is also being implemented to design the cities and vehicles of the future. As smart cities become increasingly common, wireless IoT devices that rely on the high transmission capacity of 5G must eventually link to a wired network, and optical fibers will be the only means of carrying so much data. And since autonomous vehicles will need to transmit data in near-real time to make the correct driving decisions, expect fiber to be used in your car for more than lighting.
Fiber Optic Cable Assembly Manufacturers Near Me
NAI has been providing the global marketplace with world-class reliable connectivity solutions for decades through fiber optic cable assemblies and fiber optic cable harnesses. NAI is based on quality, reliability, and service. We have a world-class integrated supply chain that features a global footprint, including manufacturing plants in Mexico, China, and the U.S., ensuring our ability to deliver the fiber optic cable assembly you need when you need it.
NAI operates seven plants worldwide with nearly 600,000 sq. ft of production capacity. As a result, our ability to meet varying needs, along with our delivery performance, is second to none.
We design and manufacture integrated connectivity solutions for Industrial Technologies, Medical, Telecom, and Data Com applications.
NAI Supplies Your Optical Fiber Cable Assembly and Harness ling Needs
Whether it's the high-speed transmission, clearer signal, improved safety, or more secure connection, the benefits that fiber optics bring to the table have made it a bright idea for engineers to implement it in a wide number of fields.
NAI is an industry leader in fiber optics cable assemblies, so we have both the expertise and the facilities to manufacture the design that fits your application.
NAI can supply optical fibers for your next cable assembly project. We have highly experienced custom design engineers and manufacturing personnel who have a relentless focus on quality. In fact, NAI employs the principles of Six Sigma and Lean Manufacturing in its operations.
Every one of our products is 100% tested for performance before it is shipped out, using state-of-the-art testing equipment. NAI delivers the confidence and reliability that enable our customer's success.
Connect with us today, and light up your project with fiber optic cable assemblies.
Sign Up for Our Semi-monthly email newsletter!