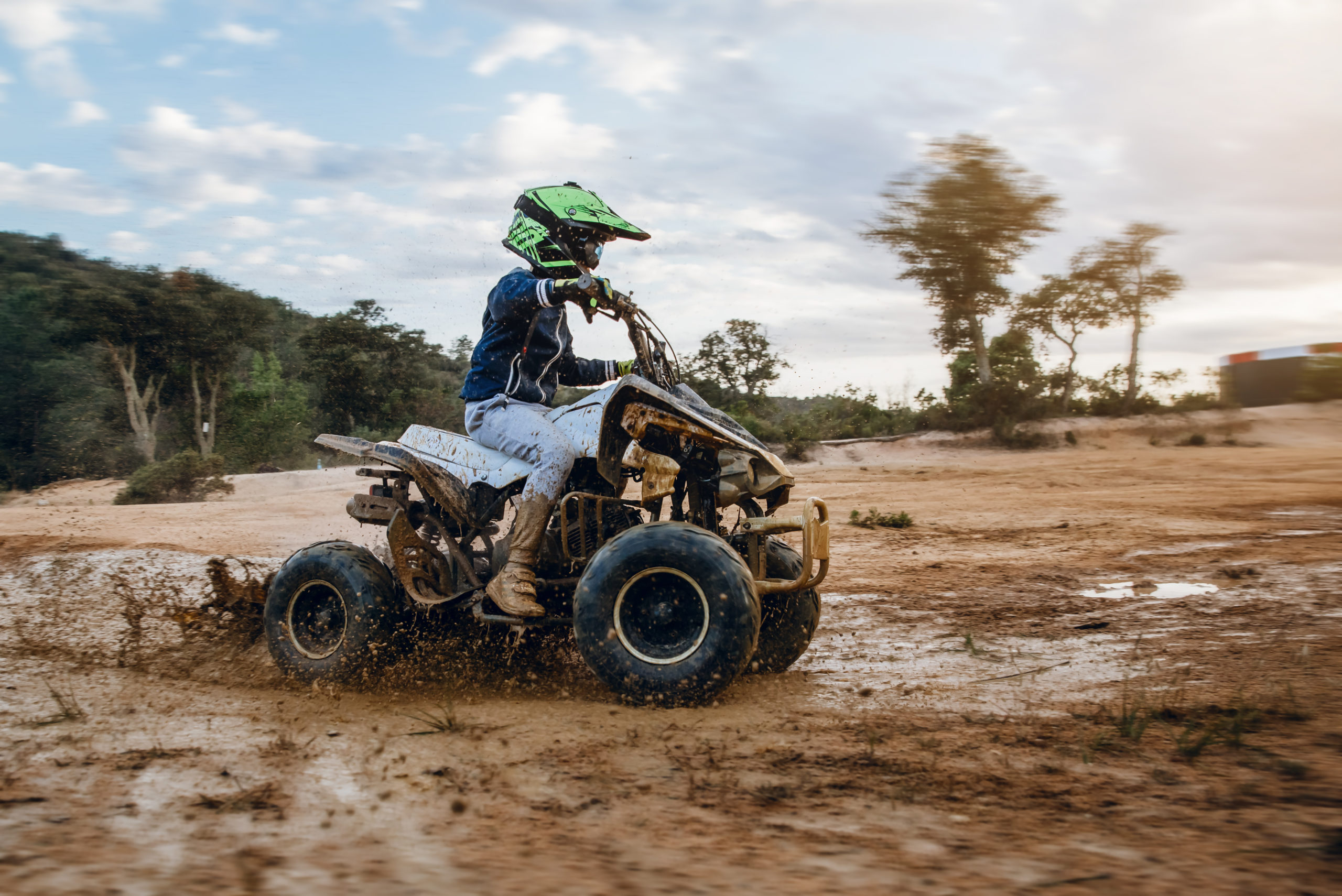 11 Aug

What is the Future of Powersports Technology?

From the X Games to a weekend spent off-roading, powersports have gained traction as a popular form of entertainment both to watch and to participate in. In recent years, the professional quality of the equipment has carried over into personal use, making powersports safer and more accessible than ever. This has launched the powersport industry into a new era of popularity and widespread enjoyment outside of the arena.

There's something fascinating about being able to travel on terrain that was previously out of bounds for traditional vehicles—it's the rugged build and top-tier quality of the recreational equipment that makes this possible. However, new breakthroughs in engine and wire harness technology have given the world of powersports the boost necessary to create an even more extreme experience.
What Are Powersports?
When we talk about powersports, we're talking about any activities that are primarily facilitated by equipment with engines. This can include dirt bikes, snow mobiles, ATVs, some water sports, and a wide range of additional assets.
While watching powersports has been popular for some time, only recently has professional powersport technology been available and affordable to the average consumer. Companies like Honda have stepped in and made advanced engines for go-karts and ATVs, in an effort to bring competition-level performance to the everyday buyer. But more powerful engines aren't the only exciting new tech on the powersports scene: there are plenty of emerging technological innovations on the horizon that promise to revolutionize the industry in coming years.
Innovations in Powersports Technology
Green Energy in Powersport Vehicles
According to a recent press release, early adopters of the Blink Charging Co.'s Level 2 AC charging stations have been paving the way for an increase in electrically powered motorcycles and other recreational vehicles. The installation of these charging stations will likely enable dealerships, repair shops, and alternative fueling stations to provide a power source that's capable of charging larger vehicles faster and more efficiently.
Technavio agrees, reporting an estimated 35% boom in the electric motorcycle industry between 2020 and 2024. This is good news for powersport enthusiasts who want to remain environmentally conscious, and for the future of electric vehicles as a whole.
However, the emphasis on electric engines doesn't mean that you have to sacrifice all of the power and advanced tech that you love. Electric powered recreational vehicles are becoming as agile and efficient as those powered by traditional fossil fuels. Manufacturers are adopting advanced vehicle control mechanisms, instrument clusters, and even electronic anti-lock braking systems in electric powered vehicles. The use of eABS will help to reduce the regenerative torque when the driver is trying to navigate a slippery or unsteady terrain, and a ruggedized motorcycle wiring harness will help ensure durability and safety.
In addition to these changes, electric motorcycles are now being manufactured with the motor in the wheel well. This cuts the vehicle's weight and generates more power with less effort, which is great news for anyone who's interested in the next generation of environmentally conscious powersports.
The brand Segway—popular for its stand-up personal transportation vehicles—has also announced that it will unveil a line of environmentally-friendly powersports vehicles in 2020. The company has two side-by-side vehicles in the mix, as well as at least one ATV. These vehicles will begin as hybrids, but Segway plans to move towards electric power in the future. An article in Dirt Toys magazine elaborated, stating:

"The vehicles will have either a paralleled hybrid powertrain (PHP; 86 hp) or extended-range hybrid powertrain (ERHP; 181 hp). The ATV will be called the Snarler while the utility side-by-side is called the Fugleman and the sport side-by-side the Villain."
At the very least, this will be an interesting development in the world of powersports, and some potentially exciting new tech to look forward to.
Gas-powered power vehicles are still far from being phased out by electric and hybrid models, but current innovations in green energy are promising. Fewer emissions and a smaller carbon footprint could herald the end of the gas guzzling machines of the past, promising a greener—and faster—future.
The Future of Snowmobile Technology
While the powersport tech has been largely focused on motorcycles, plenty has been happening with other recreational vehicles as well.
The 2020 snowmobile of the year takes some older concepts and reinvents them in a sleeker and more maneuverable way. According to Snowgoer, the Polaris 137 Indy XC has brought all of the flash from 2019, and included additional capabilities for 2020. Some might see this as a common sense move in tech, but the advanced rear suspension and 137 inch track doesn't leave much to be desired. Naturally, getting one of these state-of-the-art vehicles also means that your snowmobile wiring harness will require an upgrade as well.
Safety Innovations in Powersports
During CES 2020 Honda also plans to share their intention to integrate connected, autonomous, shared, and electric (CASE) technologies into a wide range of new products and services. This level of connectivity will surpass what's been previously thought possible in automation and powersport augmentation.
The company will showcase the vehicle's augmented driving experience, which operates on the principle that people can enjoy and do more when they aren't as focused on the responsibility of driving. These innovations could take safety in the world of powersports to an entirely new level.
While a lot of this tech may be years away from complete implementation, it definitely gives you some insight into future powersport innovations.
Is Your Wiring Harness Up to Par?
Powersport technology is being impacted by the innovations of other industries. This means that even the most up-to-date manufacturers will need to adopt a wide range of quality parts.
All of this will require cable assemblies and wire harnesses for powersports that utilize the latest technologies and can meet an entirely new level of demand—that's where we come in. Whether you need an ATV wiring harness, a PWC wiring harness, NAI can meet your needs. NAI can design and manufacture rugged wiring harnesses to withstand demanding environmental conditions, jarring and rough movement, or other conditions unique to the powersports industry.  Contact NAI today for more information.