07 Jun

NAI Publishes New Connectivity Capabilities Brochure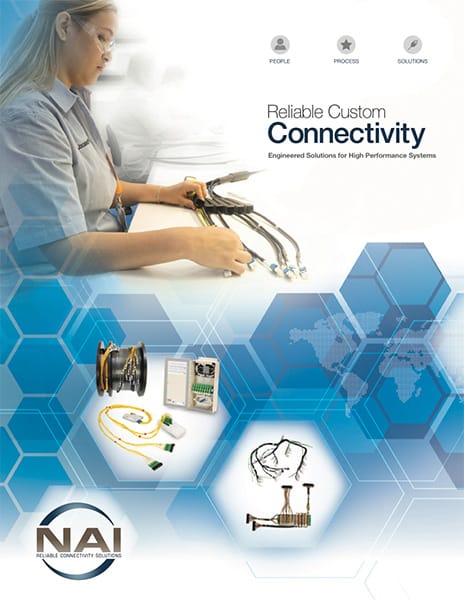 Scottsdale, AZ – NAI, a leading manufacturer of end-to-end connectivity solutions for high performance systems in industrial, telecom, data and medical industries, has introduced a new brochure describing the company's capabilities.
In this new 12-page color brochure, NAI describes its engineered custom connectivity solutions for high performance systems. NAI is an extremely agile designer and manufacturer of reliable custom fiber optic and copper cable assemblies and harnesses for a diverse group of customers, industries and critical applications. The company delivers end-to-end connectivity solutions that inspire confidence among their customers, as well as among their customer's customers. The company also makes hybrid assemblies with combinations of fiber optic, copper and power cables.
The new brochure details several key components to the NAI business:
Its custom engineering and manufacturing capabilities and expertise.
The NAI Center of Excellence (CoE), for customers who wish to outsource the design and development of their assemblies or harnesses.
The company's global sourcing and procurement which, along with internal manufacturing capabilities, provide quality assurance and substantial cost savings.
NAI's assemblies are designed and used in critical life and communications applications for medical, telecommunications, data and industrial technologies.
The Quality Management System at NAI employs the principles of Lean Manufacturing throughout its operations, with a dedicated Quality Control staff and relentless testing protocols.
The people at NAI are well trained and committed to producing only the best quality products. As a continuous learning organization, NAI is expert in meeting variations in customer demand by leveraging its well-organized and ongoing training programs.
The new NAI brochure is available as a pdf download or to view in a readable format at:
https://www.nai-group.com/nai-media.
For more information on NAI, please visit: www.nai-group.com.
About NAI
NAI has been a global leader in the manufacturing of advanced mission-critical and high-reliability fiber optic and copper cable assemblies and harnesses since 1993. A world class integrated supply chain, expert operations management, and a global manufacturing footprint in low cost regions, combine to provide NAI customers with a unique solution for their connectivity product requirements.
NAI manufactures assemblies across diverse markets including fiber optics, telecom, industrial, medical and aerospace industries. The company's unique ability to service both high mix / low volume and low mix / high volume programs, while complying with complex regulatory requirements, enables us to support the unique business needs of all customers, delivering the confidence and reliability that enable their success.
###
Press Contact:
Steven E. Bork
Marketing
NAI Group
847-778-6468
Email