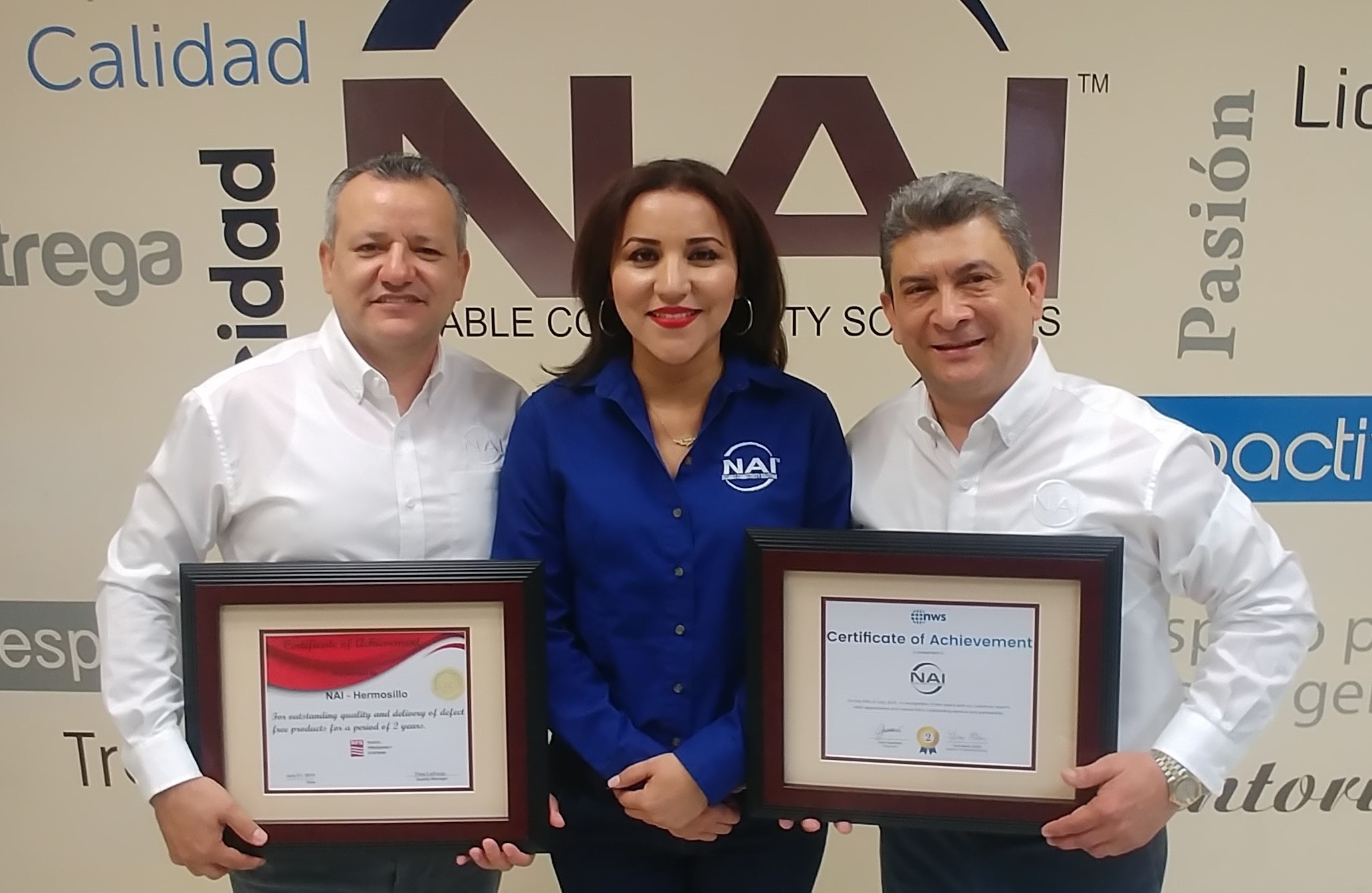 13 Nov

NAI Manufacturing Plant Achieves Zero Defects for Two Years Straight

From left: Ruben Robles, Plant #2 Manager, Alejandra Flores, Quality Manager and Carlos Canez, Dir. Operations in Mexico, hold recognition awards from customers for NAI's outstanding 2-year defect-free manufacturing achievement.
NAI Manufacturing Plant Achieves Zero Defects for Two Years Straight
Troy, MI – NAI, a leading manufacturer of global connectivity solutions for high performance systems used in the industrial technology, telecom, data and medical industries, announced they have achieved  zero-defects in manufacturing in their Hermosillo, Mexico Plant #2 for two years in a row.  This accomplishment also signifies a two-year period without customer returns or complaints.
During this period, NAI Plant #2 produced fiber optic riser cable assemblies and fiber optic jumpers with more than 7 million cable terminations.  A total of 6,800 kilometers of fiber optic cable was processed over 1.7 million man hours.
NAI recently held an off-site celebration for this outstanding achievement of zero-defects.  Carlos Canez, Director of Operations in Mexico; Ruben Robles, Plant Manager; Mario Guel, Hermosillo Quality Manager, and Alejandra Flores, Quality Leader for Plant #2, addressed employees and commended them for their hard work and commitment to quality excellence.  Employees in Plant #2 in Hermosillo, Mexico have also been awarded a gift as recognition of this accomplishment.
This significant event for NAI was also recognized by several of their customers, including two leading wireless infrastructure OEMs.
Jon Jensen, CEO at NAI, stated "Operational excellence is one of the cornerstones of NAI's strategic architecture, and we're very proud to see it demonstrated with this accomplishment by our team in Hermosillo."
Recognizing this excellent performance that came from a well-motivated and empowered team at NAI, Mr. Canez recalled the  words of Lee Iacocca: "Start with good people, lay out the rules, communicate with your employees, motivate them and reward them. If you do all those things effectively, you can't miss."  Mr. Canez further stated "Great teams with great leaders are hard to find, but we have the perfect combination in Plant #2.  As a result, our customers recognize the strong service level they receive and enjoy working with us."
Ruben Robles stated "For the Operations Team here at Plant #2, making Quality and Continuous Improvement a way of life has been one of our stronger aspirations. This kind of sustained result is the best evidence that we are on the right path!"
NAI employs disciplined quality planning and management and Lean Manufacturing in its operations.  The following are just some of NAI's proven quality process features:
Standardized APQP (Advanced Product Quality Planning) to assure a seamless product launch
The use of proprietary testing protocols throughout manufacturing
A relentless passion for excellence and continuous improvement
Utilization of the NAI Fiber Center of Excellence (CoE) for product development and design, with a focus on DFM (Design for Manufacturing)
For more information on NAI and its Quality Process, please visit: www.nai-group.com.  Phone: 248-817-4106.
About NAI
NAI has been a global leader in the manufacturing of advanced mission-critical and high-reliability fiber optic and copper cable assemblies and harnesses since 1993. NAI features a world class integrated supply chain, expert operations management, and a global manufacturing footprint in low cost regions. These all combine to provide NAI customers with a unique solution for their connectivity product requirements, from fiber optic and copper cable assemblies to box and panel assemblies.
NAI manufactures assemblies across diverse markets including fiber optics, telecom, industrial, and medical industries. The company's unique ability to service both high mix / low volume and low mix / high volume programs, while complying with complex regulatory requirements, enables them to support the unique business needs of all customers, delivering the confidence and reliability that enable their success.