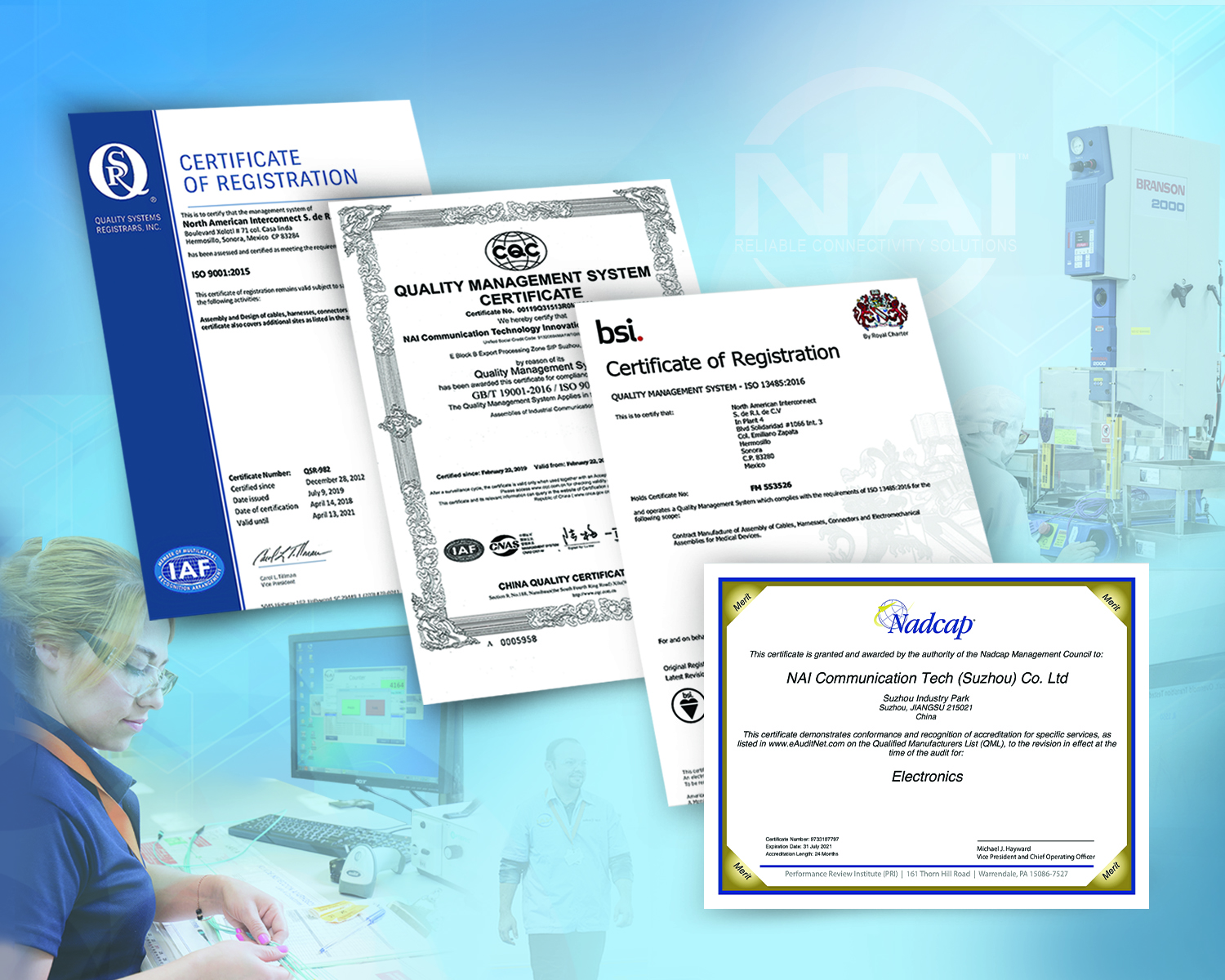 18 Nov

NAI Announces New ISO Quality Certifications & Nadcap Extension
NAI Announces New ISO Quality Certifications & Nadcap Extension
Troy, MI – NAI, a leading designer and manufacturer of custom interconnect solutions which deliver power and signals for monitoring data, connecting people and keeping equipment performing, has announced new Nadcap and ISO Quality Certifications for several of their manufacturing plants to benefit the NAI customer experience.
The NAI plant in Gaylord, Michigan, established in 2018, has recently achieved ISO 9001:2015 certification, and ISO 13485:2016 certification.  In addition, the company's Plant #2 in Suzhou, China has also achieved its ISO 9001:2015 certification.  Lastly, Nadcap accreditation has been extended for another 2 years for Suzhou's Plant #1.
NAI ISO Quality Certifications
ISO 9001 is an internationally recognized certification which ensures the quality of products and services produced by a company.  With ISO 9001 certification, NAI has documented improved consistency in its manufacturing operations and interconnect products by standardizing operations, processes and documentation.  With ISO certification, customers are confident in knowing the products and services NAI provides will meet expectations and perform.  While it may be table stakes for some, this achievement raises the bar on planning and operations to make sure NAI customers enjoy an outstanding and unequalled experience.
ISO 13485:2016 certification for the Gaylord plant is focused on the quality management systems related to the design and production of interconnect solutions for medical and healthcare devices and equipment.  As these products are mission critical in application, the ISO 13485 requirements are more stringent and require even more documentation.
The recent extension for an additional two years of the Nadcap accreditation at NAI's Plant #1 in Suzhou, China reflects an industry-managed approach to conformity assessment for the aerospace industry and for the approval of industry suppliers.  Nadcap (National Aerospace and Defense Contractors Accreditation Program) approval is granted based on industry consensus.
One of the main requirements for ISO certification includes the participation of all employees in each plant's Quality Management Systems.  While Quality Control teams lead these initiatives at NAI (at Gaylord: Raj Wadhwa, Alex Cerveniak, Terri Watts, and at Suzhou: Carrie Lu), these leaders ensure that the processes and documentation for ISO certification involve all engineers, supervisors, service and manufacturing personnel.
As part of the process to achieve the Gaylord, MI plant certifications, Alex Cerveniak, Gaylord's Quality Manager, received rigorous training and achieved Certified Lead Auditor status in order  to ensure NAI compliance with ISO 9001 and ISO 13485.  This certification allows Mr. Cerveniak to lead an audit team, create an audit plan, interpret the standard, determine if NAI's QMS processes meet the requirements, document any nonconformities and make corrections.
Jon Jensen, CEO at NAI, commented "NAI remains committed to providing quality products and services.  To ensure this, the company has established strong and well documented Quality Management Systems.  Our ISO and Nadcap certifications represent industry recognition of the effectiveness of these systems.  Further, NAI is committed to continuous quality improvement in product manufacturing, as well as with engineering and other services.  This delivers the customer experience our partners expect."
To learn more about NAI, please visit the NAI website at www.nai-group.com.
To view NAI plant certifications and copies of certificates, go to: https://www.nai-group.com/about/quality-systems-certifications/.
About NAI, Leading Quality In Cable Manufacturing
NAI is the most resourceful interconnect solutions provider customers count on to solve design, manufacturing and logistics problems.  Offering copper and fiber optic cable assemblies and harnesses, coupled with block assemblies, panel and box builds, NAI provides an unparalleled breadth of capability.  Because NAI is remarkably scalable, flexible and agile, customer projects are brought to life very quickly, while meeting or exceeding expectations and delivering high reliability.
NAI strives for high integrity with customer relationships by providing notable transparency and delivering on promises.  Product and market diversity, an extraordinary talent base and an ability to supply globally are distinct characteristics of NAI.
Only NAI provides this unique combination of company attributes, distinguishing them as the most reliable supplier of interconnect product solutions and expert service.
END
###