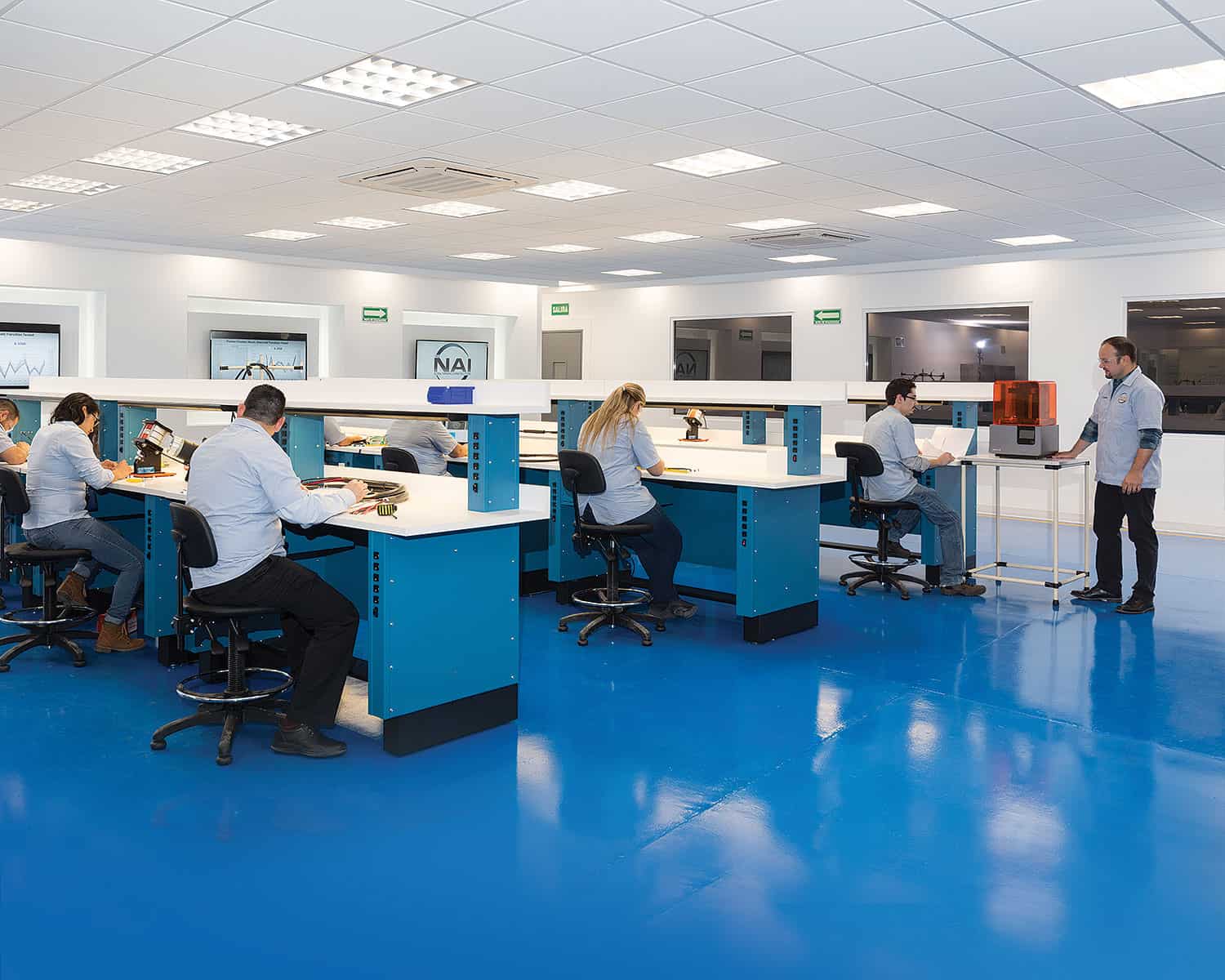 25 Oct

NAI Announces New Facilities to Launch New Interconnect Assembly Products

NAI announces new facilities for their Centers of Excellence and NPI operations in Mexico and China.

Troy, MI – NAI, a leading manufacturer of end-to-end connectivity solutions for high performance systems in industrial, telecom, data and medical industries, has established several new facilities within their plants in Hermosillo, Mexico and Suzhou, China.  These operations are dedicated to the design, prototyping and testing of cable assemblies, harnesses, box builds, and panel builds.  There are separate facilities for fiber optic interconnects and copper.

Referred to as "Centers of Excellence" (CoEs) or as New Product Introduction departments (NPIs), these specialized operations include dedicated teams of engineers who design, analyze and qualify assemblies, as well as box or panel builds, before they go into production.  The CoEs and NPIs employ over 85 engineers, technicians, advanced sourcing experts and cost estimators.  Additionally, the CoEs and NPIs use program management professionals to oversee NAI's Product Development Process (PDP) and to ensure the product concept is successfully transferred to manufacturing through NAI's standard Advanced Product Quality Planning (APQP) launch process.  The transfer can be made to any of NAI's seven manufacturing locations in Mexico, China and the U.S.  The CoEs and NPIs occupy over 11,000 square feet of dedicated floor space within the existing plants.

NAI provides three levels of design services to its customers: build-to-print, design assistance or full-service design.  In each case, the CoE or NPI plays a key role in preparing new projects for production.  While CoE engineers will take a customer's build-to-print project and prepare it for manufacturing, these operations are ideally suited for customers who want to outsource the design and development of their fiber optic or copper cable assembly projects.

The new CoE labs formalize the use of alternative processes and components that have been associated with NAI's product development (NPI) teams at the various NAIplants, resulting in robust product performance and cost savings.  TheCoEs support the NAI manufacturing process (and the customer's interests) by employing Design for Manufacturability (DFM) principles in the design stage.

Once a product is fully prepared for production, each CoE and NPI assists NAI's operations teams with the installation and qualification of manufacturing lines. This may include testing, validation and any debugging that might be needed before a product is released for full production.  These advanced production lines are specialized for specific types of assemblies, such as fiber optic, coax, HDMI, data, etc.

The CoEs are each outfitted with the latest design equipment.  They utilize CAD equipment and 3D printers to realize the appropriate design solution that will meet a customer's require­ments. CAD software platforms include ACAD, SolidWorks, Creo and CorelDraw. FormLabs software is utilized for 3D printing to simulate prototype assemblies.

NAI's CoE operations can provide any testing the customer requires.  Typical test operations include:
Environmental test (thermal chambers)
Immersion test according to IP67
Tensile and connector tests based on connector specification or customer requirement
For copper assemblies:
Electrical testing (i.e., RF, continuity, sub-assembly electrical tests, resistance)
Visual inspection
For fiber optic assemblies:
Insertion Loss/Return Loss (IL/IR)
Attenuation
Cross-section analysis (connectors, cable assembly and transition areas)
End face and geometry, per standard spec IEC 61300 or customer requirement
Display monitors provide CoE engineers with project dashboards, allowing them to control the design and testing process. Monitors display project status in real time, with progress percentage and highlights, as well as live thermal test data.
To learn more about NAI's Center of Excellence, please visit the NAI website at www.nai-group.com.
About NAI
NAI has been a global leader in the manufacturing of advanced mission-critical and high-reliability fiber optic and copper cable assemblies and harnesses since 1993. NAI features a world class integrated supply chain, expert operations management, and a global manufacturing footprint in low cost regions. These all combine to provide NAI customers with a unique solution for their connectivity product requirements, from fiber optic and copper cable assemblies to box and panel assemblies.
NAI manufactures assemblies across diverse markets including fiber optics, telecom, industrial, and medical industries. The company's unique ability to service both high mix / low volume and low mix / high volume programs, while complying with complex regulatory requirements, supports the unique business needs of all customers, delivering the confidence and reliability that enable their success.
END
###