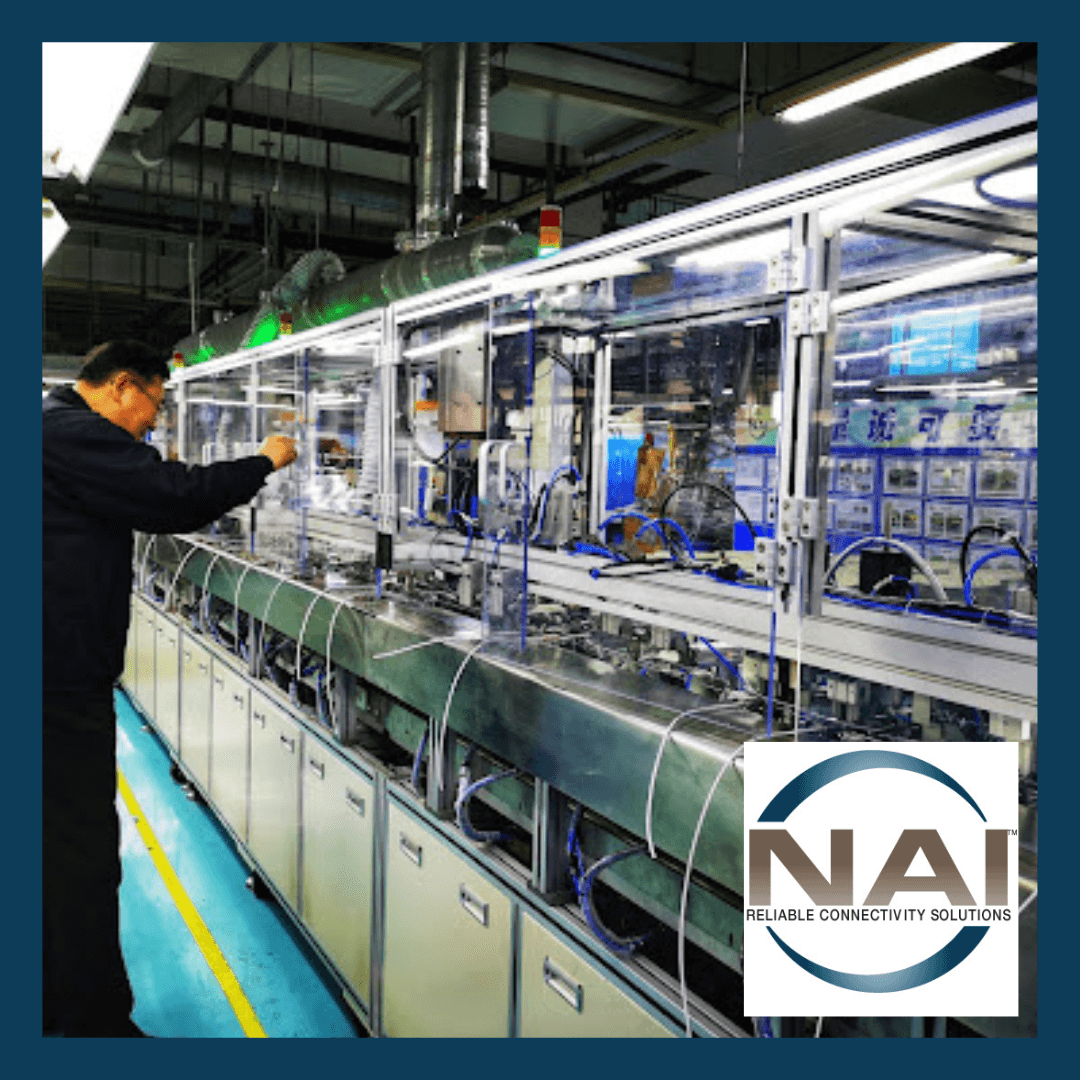 01 Mar

How To Select an Interconnect Source for Medical Devices & Equipment

Medical equipment and devices are critical for providing quality patient care. However, they must be manufactured to a high standard of accuracy and safety to be effective and reliable. When scouting through various medical assemblies for devices and equipment, it's important to work with a knowledgeable, experienced, and reliable partner. Keep reading to discover how to select an interconnect source for medical devices and equipment.

In our article below NAI will go into detail on what an interconnect source does and why it's important. In medical applications, a variety of instruments and devices will be used to monitor patients' physical conditions. Such medical device equipment must have high-precision and stable detection capabilities. High-performance interconnect solutions are required to ensure the stable operation of the device or equipment. For this reason, selecting a reliable interconnect source is crucial.

High-performing, reliable, and certified medical and surgical interconnect solutions are valued by those seeking a medical cable assembly manufacturer. Discover why NAI could be the interconnect source your organization is seeking. NAI provides world-class connectivity manufacturing solutions, including medical cable assemblies for medical devices and equipment.
What Is an Interconnect Source and Why Is It Important?
An interconnect source in the medical industry is a company that provides all the custom manufacturing services and components needed to connect and integrate different parts of a healthcare device, piece of equipment, or system. In medical devices and equipment, using an experienced source ensures that components are able to communicate with one another, operating as a single network when it comes to providing patient diagnosis and treatment. This is best provided by working with a reliable medical cable assembly manufacturer.
For example, NAI Group is one of the world's leading manufacturers of advanced and reliable connectivity solutions with a wide range of custom interconnect capabilities such as custom cable assemblies.
There are numerous benefits associated with having an interconnect source including:
Increased efficiency and accuracy
Reduced downtime due to maintenance issues
Better patient safety
Improved communication between healthcare professionals and patients
Elimination of unnecessary expenses on redundant equipment
To achieve the above-mentioned benefits, you'll need to be mindful of a number of factors when choosing an interconnect source for your medical devices and equipment. NAI helps those seeking a medical cable assembly manufacturer by explaining the 4 most important things to consider when selecting an interconnect source.
1. The Ability To Make a Wide Range of Assemblies & Harnesses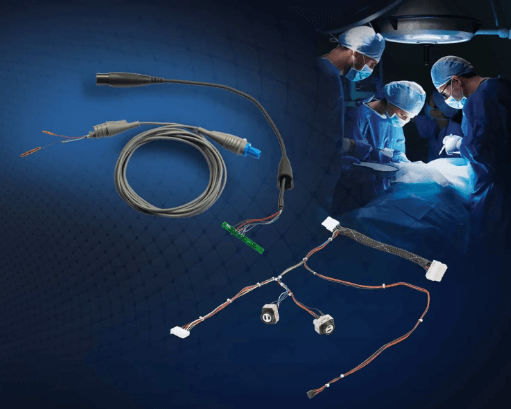 The first, and arguably the most important, factor to consider when looking for connectivity manufacturing solutions, is the manufacturer's ability to link a wide range of medical devices and equipment with a broad range of assemblies and harnesses. This will ensure you're able to accommodate the base requirements of a variety of medical applications, without having to worry about the type of assembly needed or the manufacturer.
A source with a wide range of interconnect capabilities will also be able to support the development of new and innovative medical devices and equipment. Choosing incorrectly, incompatibility is a problem that may arise much later down the line, along with delivery or supply chain issues.
NAI has a wide and diverse assortment of medical applications. This includes medical cable assemblies for medical devices, such as
Coblation surgical assemblies
Over-molded pulse oximeter assemblies
Surgical knife assemblies
Ultrasound and laparoscopic surgical assemblies
Disposable surgical wand assemblies
Catheters
EKG leads
Defibrillators
NAI's ability to make a wide range of interconnects proves its standing as one of the best value medical cable assembly manufacturers you'll encounter. For more information on the assortment of medical assemblies sourced through NAI view our medical assemblies devices and equipment.
2. High-mix / Low-volume and High-volume / Low-mix Capabilities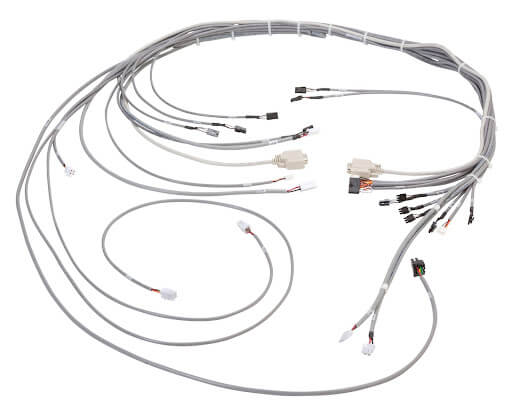 In addition to the ability to make interconnects for a wide range of devices and equipment, it is important to find a source with a good capability mix of producing assemblies with both high-mix / low-volume and high-volume / low-mix. This is ideal for medical devices that need to produce assemblies with scale options while maintaining low expenses.
Supporting both capabilities means that the source can support both large-scale and small-scale production runs, and accommodate various levels of complexity, depending on the needs of the medical application. An interconnect source with both options is better equipped at providing the right interconnect solution for any medical application, regardless of its size or complexity, or to adapt to your changing needs, should they arise.
NAI offers a great capability mix that provides organizations with the ability to produce many assembly configurations at low volumes as well as fewer assembly configurations at high volumes. Medical devices and equipment are critical to life and safety, and NAI operates manufacturing conditions for each cable assembly with the greatest of care.
Assembly operations are monitored throughout all processes, and every assembly is 100% tested. No matter what quantity or configuration your organization is seeking, NAI will produce the medical cable assemblies with the highest quality and best practices.
3. The Ability To Contribute To The Design and Development of Medical Devices and Equipment
The ability to contribute significantly to the design and development process is another key factor to consider when working with medical cable assembly manufacturers. A source that can provide design and development services can ensure the medical devices and equipment meet the needs of the application, while also addressing any technical or regulatory requirements, guaranteeing the safety of the final product.
NAI Group is highly experienced in providing custom solutions for customers across many industries, including telecommunications and industrial technology solutions in addition to medical device and equipment manufacturing. That makes us a great partner for any organization looking to make an impactful contribution to their design and development process. While many organizations primarily focus on build-to-print orders, NAI provides design assistance and full design service options. A global sourcing team can also provide value by finding alternative components. At NAI, you can expect flexibility and deeper capabilities to optimize the performance of your product and/or reduce its cost.
NAI works with medical device and equipment OEMs, as well as the medical professionals and users of the devices or equipment. As one of the highest-quality medical cable assembly manufacturers in the industry, you can trust NAI with your medical cable assembly.
NAI has the following certifications, each of which helps provide the top-quality medical cable assemblies that organizations seek.
ISO 9001:2015
TL 9000-H R6.0/R5.0
ISO 13485:2016
AS 9100 Rev. D (SZO)
Nadcap Accredited (SZO)
2011 C-TPAT
Our plants feature ISO 8 Class 100k cleanroom manufacturing capabilities and are ISO 13485:2016 certified. In addition to this, our quality management system has been tailored to support the rigorous PPAP & IQ/OQ/PQ requirements of the regulated medical device industry. NAI is a quality supplier among manufacturers of medical cable assemblies. When you work with NAI as your interconnect source you receive the best interconnect solutions that result in quality manufacturing, assembly, testing, and validation.
4. Design and Development Experience With Medical Cable Assemblies for Medical Devices and Equipment
An interconnect source's contribution shouldn't be limited to technical capabilities. Hands-on experience in providing design and development plans for the implementation of medical products is essential.
Extensive experience in design and development ensures that you have access to an expert-level understanding of the various requirements and unique challenges that are bound to arise when attempting to implement, integrate, and connect medical devices.
Furthermore, a fully experienced interconnect partner can offer you valuable insights and thoughtful recommendations to consider throughout the design, development, and implementation phases to ensure the final result meets your standards and base requirements.
NAI's Customization Options For Medical Cable Assemblies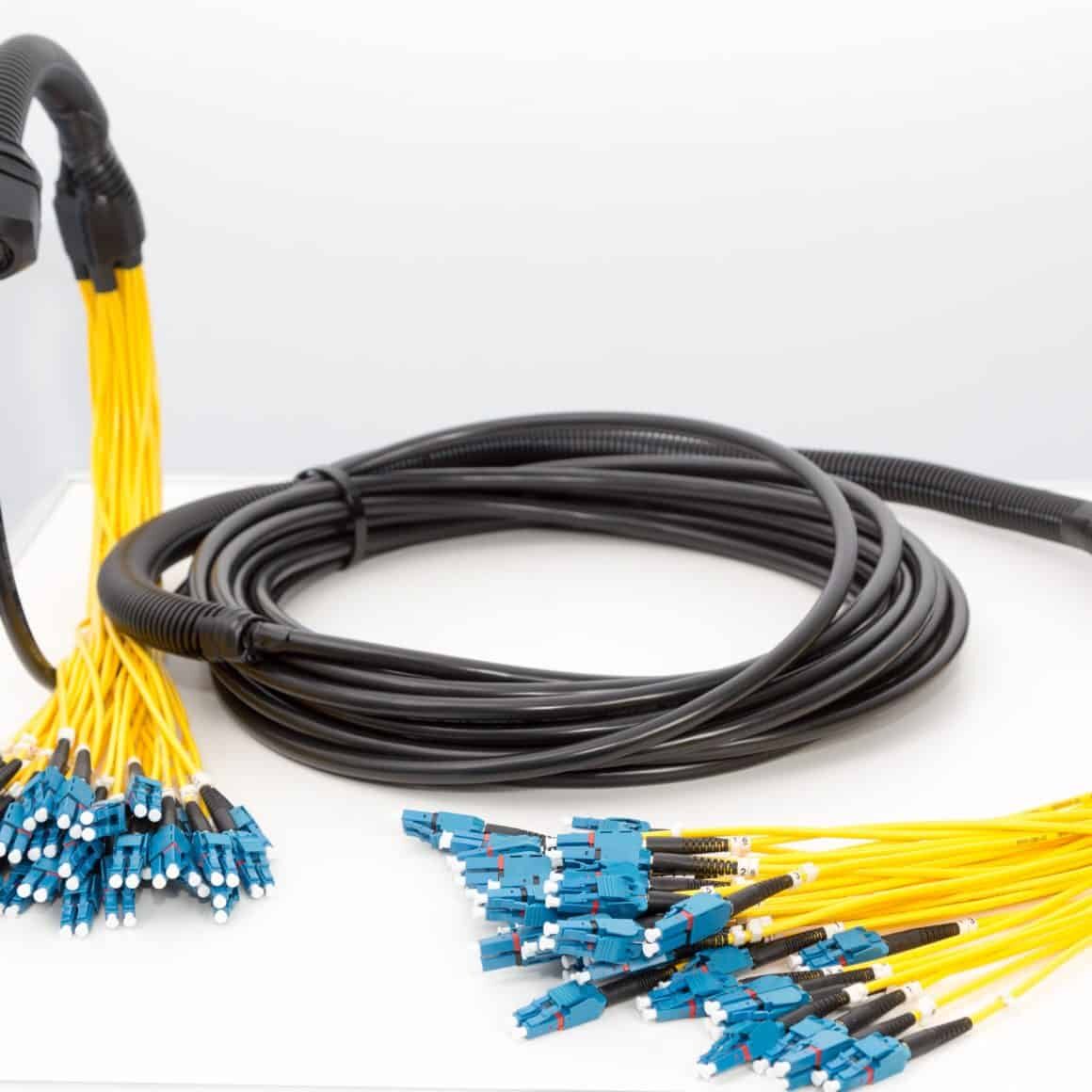 One of the many reasons NAI has grown to be a world-class manufacturer of medical interconnect solutions and one of the best value medical cable assembly manufacturers is because NAI offers customization options for medical cable assemblies.
NAI has ample experience working with medical equipment and device original equipment manufacturers (OEMs). Accordingly, we provide a wide variety of customization options for medical cable assemblies, including:
A large selection of custom fiber optic and copper cable assemblies for data
Sensor cable assemblies
Coaxial cable
A broad range of insulation materials
Copper conductor options — size, solid, or stranded
Component options, including covers, pins, connectors, housings, and contacts
Other components, including terminal blocks, strain reliefs, ferrules, shrink tubing, potting, bushings, boots, and more
Pre-terminated enclosures and other housings often needed for equipment
When choosing an interconnect source for medical devices choose NAI. NAI's manufacturing operations have been designed to produce a wide variety of custom interconnectivity solutions. This allows us to be a successful medical cable assembly manufacturer supplying custom cable assemblies, harnesses, and associated components for specific industries – each critical to keep the world functioning.
Why Choose NAI Group as Your Interconnect Source?
NAI Group is a world leader in medical cable assemblies for medical devices. Our experience providing design and development services for medical products is unmatched. Our experts have a deep understanding of the unique requirements and challenges in providing interconnects for medical applications.
While others may be able to manufacture a portion of what NAI produces, no one matches the breadth and depth of our quality product capabilities, processes, and medical application experience, let alone match our global footprint and speed to make decisions quickly. Selecting the right interconnect source is crucial. NAI has the capabilities you need. With the ability to make a wide range of interconnects, as well as a good capability mix, and the ability to contribute significantly to the design and development process, NAI is the right medical cable manufacturer you need.
So whether you're developing a new medical device or looking to upgrade the connectivity between the parts of an existing device or piece of equipment, NAI can provide you with all the expertise, tools, and support you need to make it work. Contact NAI, and let us submit a proposal or a quote based on your connectivity needs.