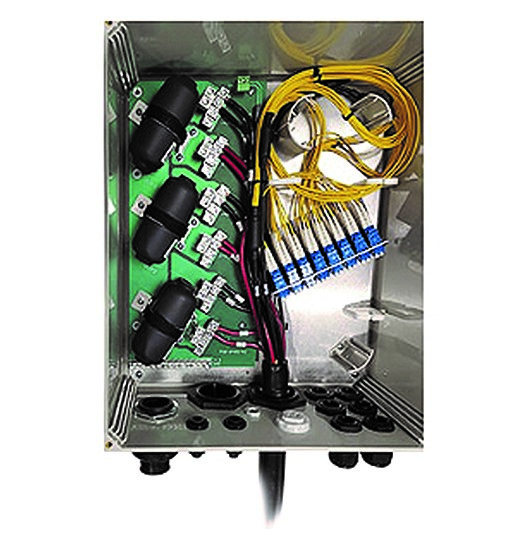 21 Dec

What is NAI Group's Box Build & Panel Assembly Process?

Sometimes known as a systems integration, a box build panel assembly converges electronics engineering, mechanical design, and manufacturing all into one process — and no two cases are the same.

Find out what goes into the box build assembly process, and why only the best manufacturers should have your trust to handle your electromechanical assembly project.

Our modern world is surrounded by all sorts of electronic devices — cell phones, robots, and servers, just to name a few. Anyone who's looked inside even the most basic devices will be amazed at the number of connections and components that are housed inside such a small space and will likely wonder what goes into their build.

And with box build assembly, the process is as complex as the devices they create.

Not sure what your supplier of contract assembly services or electronic manufacturing services (EMS) needs to make your box build assembly or electromechanical assembly project a success? Read on to find out!
What Is Box Build Panel Assembly?
Covering nearly every phase of manufacturing for entire electronic systems, box build assembly takes circuitry all the way from the electromechanical design concept to reality. Some box build assembly services you can expect to receive from your EMS provider are:
Sub-level assembly (control panel assembly, wire harness assembly, cable assemblies, etc.)
Product assembly
Cable assembly and wire harness assembly
Component labeling
Housing fabrication
Software configuration
Testing
Packaging
Shipping
One thing that is not included in box build assembly is the fabrication of the actual printed circuit board (PCB).
However, the connector house or contract assembly services manufacturer will likely supply other components like connectors, cables, fasteners (washers, gaskets, etc.). Once the PCB is supplied, your EMS provider can construct your electromechanical design according to spec.
Examples of Box Build Panel Assembly
Also known as system integration, box build assembly varies greatly in complexity from one project to another. Some are as basic as a printed circuit board assembly (PCBA), while others must include motors, servos, fans, or pneumatic actuators as part of whole  electromechanical systems.
A few system integration component examples are:
Industrial cable assemblies
Integrated circuit assembly
5G cable assembly
Controller assembly
Panel assembly
While each box build is as unique as the application it serves, they all require a high degree of technical precision, which is why you should leave your box build to the best.
What Is Required for a Box Build Panel Assembly?
Box build assemblies are so comprehensive that even the most experienced electronic assembly services providers needs detailed information from their clients about how to approach each one.
Seasoned box build assembly manufacturers should be able to walk you through many technical specifications on how best to fabricate your box. But you'll still need to define the deliverables to ensure the end product performs according to your design. Here are the most important files they'll need.
Your Box of Build Panel Assembly Bill of Materials (BOM)
Likely the most important deliverable of all, the BOM tells your electronic assembly services provider exactly what components will go into your box build or panel assembly.
A complete list of every element of the final product, your BOM should be an exact description of each component or subsystem within the build. The list is not exhaustive, but a few things to include in your BOM are:
Electrical values (voltage, current, power, resistance, inductance, capacitance, etc.)
Tolerances
Actuator specs
Cable and wiring specs (quantity, length, resistivity, braiding, thickness, material, etc.)
Casing material or enclosure specifications (i.e., NEMA)
Instructions for fabrication (as best you can; the manufacturer should fully define these)
Specific part numbers and quantities, for all components in the build
Any information detailing the kind and quantity of each component within your box should be carefully outlined in your BOM.
If anything is missing or unclear, a quality electronic assembly services provider should be willing to consult you for further details and provide recommendations if needed.
Schematics: Physical and Electrical Properties of Box Build Panel Assembly
Providing the ingredients for your box build is essential, but it won't be enough to finish the job if your manufacturer lacks a complete design of the final product.
At a minimum, your EMS provider will need any specification you have for the finished box — and the device isn't going anywhere without detailed electrical schematics. Some specs will include:
Height
Length
Width
Weight
Threadings
Contours and splines
Wiring assembly
Component location
Fastener location
Electrical component specs
Fuses
Contacts
Switches
Holes
Logic gates
Some of this information is essential when your manufacturer decides how the enclosure or cabinet should be built and shipped, while others determine the electrical properties of the device. It's important to give a thorough schematic of both, unless you hire the box build assembly manufacturer to also provide the electromechanical design.
The most effective way to deliver physical data is often through a computer-aided design file, or CAD. Some CAD renderings may be basic 2D surface sketches or isometric drawings. Others may be detailed 3D models of the final product that are complete with all the dimensions necessary for fabrication.  That is, again, unless you hire the box build assembly manufacturer to also provide the electromechanical design.
Electrical schematics can often be generated by similar software, and some tools have platforms for both. The exact format you choose will depend on your project, but well-dimensioned 3D CAD files and electrical schematics are often best, as these provide the most detail for the project.  If your provider develops these schematics and drawings, be sure they become part of your deliverables.
Samples/Prototypes
As helpful as documents can be, sometimes a working sample or prototype is all a skilled EMS box build assembly manufacturer will need for your electromechanical assembly.
"Looks-like" prototypes only portray a product's form and give little information on the best method of building the box. However, "works-like" prototypes display the function of the final product and may have most of the needed components in place, providing you and the manufacturers with a physical template.
Testing Requirements
The thorough testing of any kind of electronic device is always important. Rigorous testing not only ensures functionality but ensures your product is safe for use and complies with industry standards. Some common box build tests are:
Earth bond
Flash test
Impact resistance test
Cyclic discharge
Many electrical tests – voltage, IR, etc.
Much more
Specify any tests you want your box build assembly provider to perform, but they should have a good idea of which tests are necessary, so be sure to get their input.
NAI Group: Building Outside the Box
From life-saving medical devices to cutting-edge circuitry found in robotics, the electronic systems we rely on every day often hinge upon proper box build assembly. This high-precision field encompasses all stages of electronics system manufacturing, which supports the operation of many devices and systems we use daily.
At NAI Group, we specialize in box build assembly, especially in industries that depend on it most. We're a global leader in offering the advanced, high-reliability connectivity solutions needed for mission-critical applications. Our integrated supply chain combined with our global footprint enables us to meet our clients' box build needs. Contact us today to see how we can help.